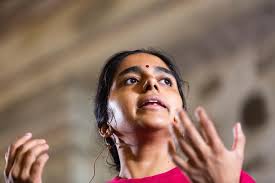 As many of you might have already noticed, our schedule has been changed a bit for the coming week – some classes cancelled and some classes moved. The reason for this is a unique opportunity for all to study with Abhijata Iyengar, BKS Iyengar's granddaughter, live and online!
I have been lucky to travel to India and take class with Abhi and she also led our United States Iyengar convention in 2019. She is a dynamic and insightful speaker and teacher. She has the Iyengar spark and humor wrapped up in a commitment to and curiosity about yoga that is infectious and intelligent. She has donated her time for us to come together as a community to practice and learn under the current circumstances. I don't think I need to tell you, this is an unprecedented event.
To participate you must first become a member of The Iyengar Yoga National Association of the United States (IYNAUS). If you are not yet a member or don't know much about this organization, now may be the time to be informed and join! IYNAUS is a non-profit, volunteer organization whose main purpose is to certify Iyengar Yoga teachers. The reason you have such high-quality teachers here at The Yoga Place is because all of us have gone through the rigorous and life-changing assessment process overseen by the Iyengars and IYNAUS. But that is not all they do! IYNAUS carries the most wide-ranging store for Iyengar Yoga materials. It serves as our main connection to what is happening in India and holds fast to the wishes of BKS Iyengar who first passed down all the suggested requirements for running associations in every country and region, the Pune Constitution.
To become a member of IYNAUS means you get connected to the wider National, but also International community of Iyengar Yoga. You will receive quarterly publications (Yoga Samachar) and also may opt in for a publication straight from India (Yoga Rahasya).
Also joining IYNAUS, you choose a region that you might like to join in the process. The local regions that many of us are associated with are IYAUM (Iyengar Yoga Association of the Upper Midwest that has served Minnesota) and IYAMW (Iyengar Association of the Midwest) that covers a larger range of states and communities. Each of these regions offer extra benefits for members, including scholarships and grants for students to participate in continuing education events…like this one with Abhi. At this time, this is also important as many studios and members of our community are struggling. The Unity Event with Abhi will be raising money that will ultimately be distributed to the regions equally so that they may support their local communities as they see fit.
As of yesterday, there was still room in the event with Abhi if you are so inclined. And, if you can't make every class live at the 8am (CST) time, then the recording of the class will be available for 48hrs post class time. SIGN UP HERE ! If you think you are interested. Again, I believe this is a unique and important opportunity to connect us together – locally, nationally, and internationally as we all stay-at-home together.
As many of us have noticed in participating in classes online, the "power of unity" is strong, even if we cannot personally be close, we are still brought together in practice.
And, of course if you cannot attend, know that The Yoga Place still has a schedule of classes to attend this coming week, I am sure I will blog about my experience, and as always we all will be passing on what we learn to you….