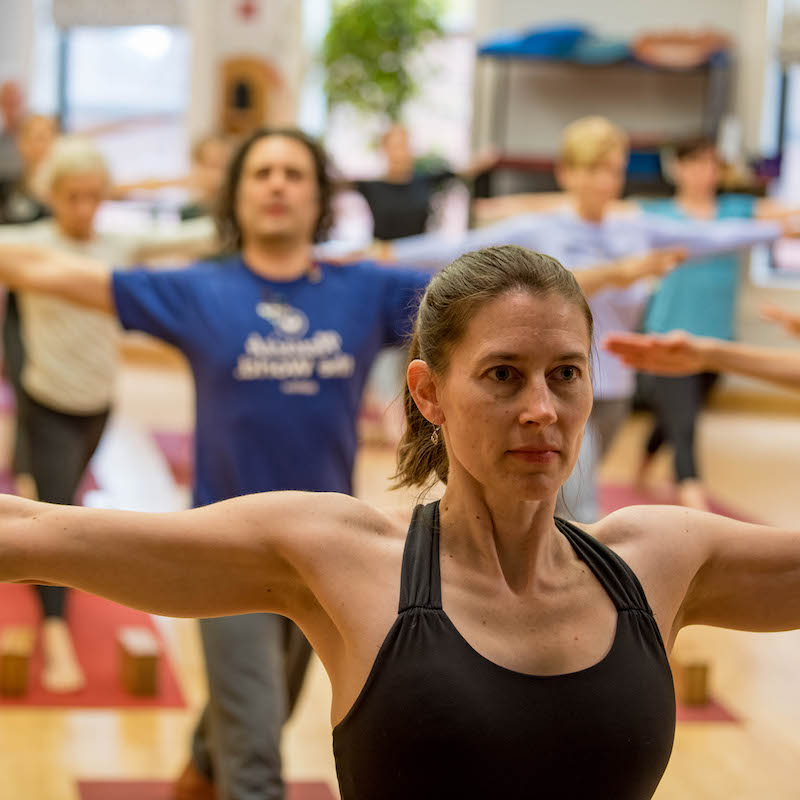 For those with Iyengar yoga experience, students should be practiced in fundamental postures including shoulder-stand and headstand or appropriate alternatives. The sequence of poses vary from class to class and our teachers are skilled at adapting as needed for each individual. These classes are typically active and challenging in a good way. Yoga classes that are good for you inside and out! At least one session of Beginners Series is recommended.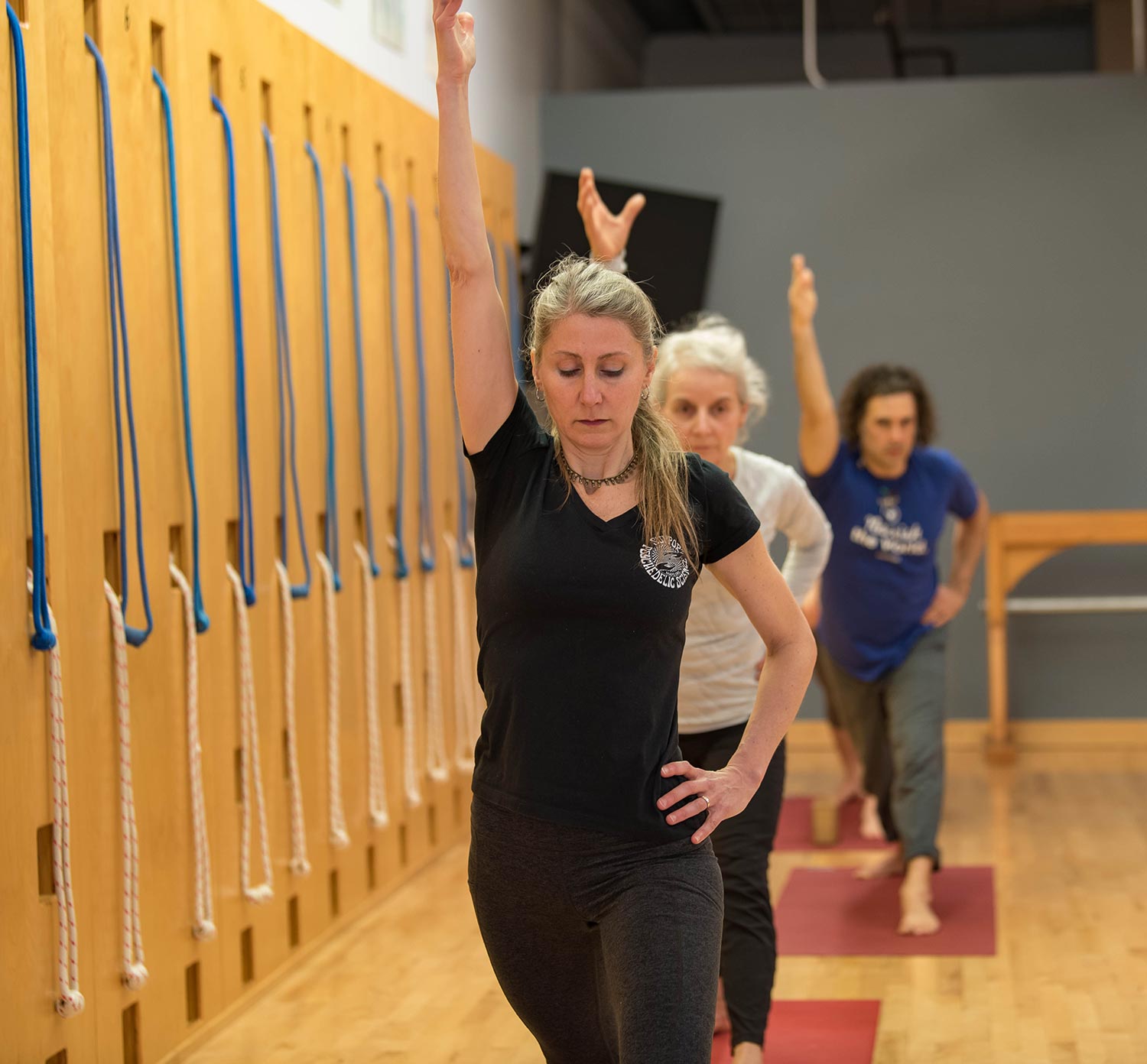 Beginners Series & Fundamentals of Yoga
These classes are especially designed for beginners (6-week series) or those who wish to continue focus on fundamentals. You will learn the foundations of yoga to help you build strength, flexibility and to relieve stress. This is an active class, excellent for those who are totally new to yoga or new to Iyengar Yoga or maybe you've just been away from your mat for awhile. This class is not for students with serious physical limitations. Each 75-minute session will build upon the prior class in a progressive manner.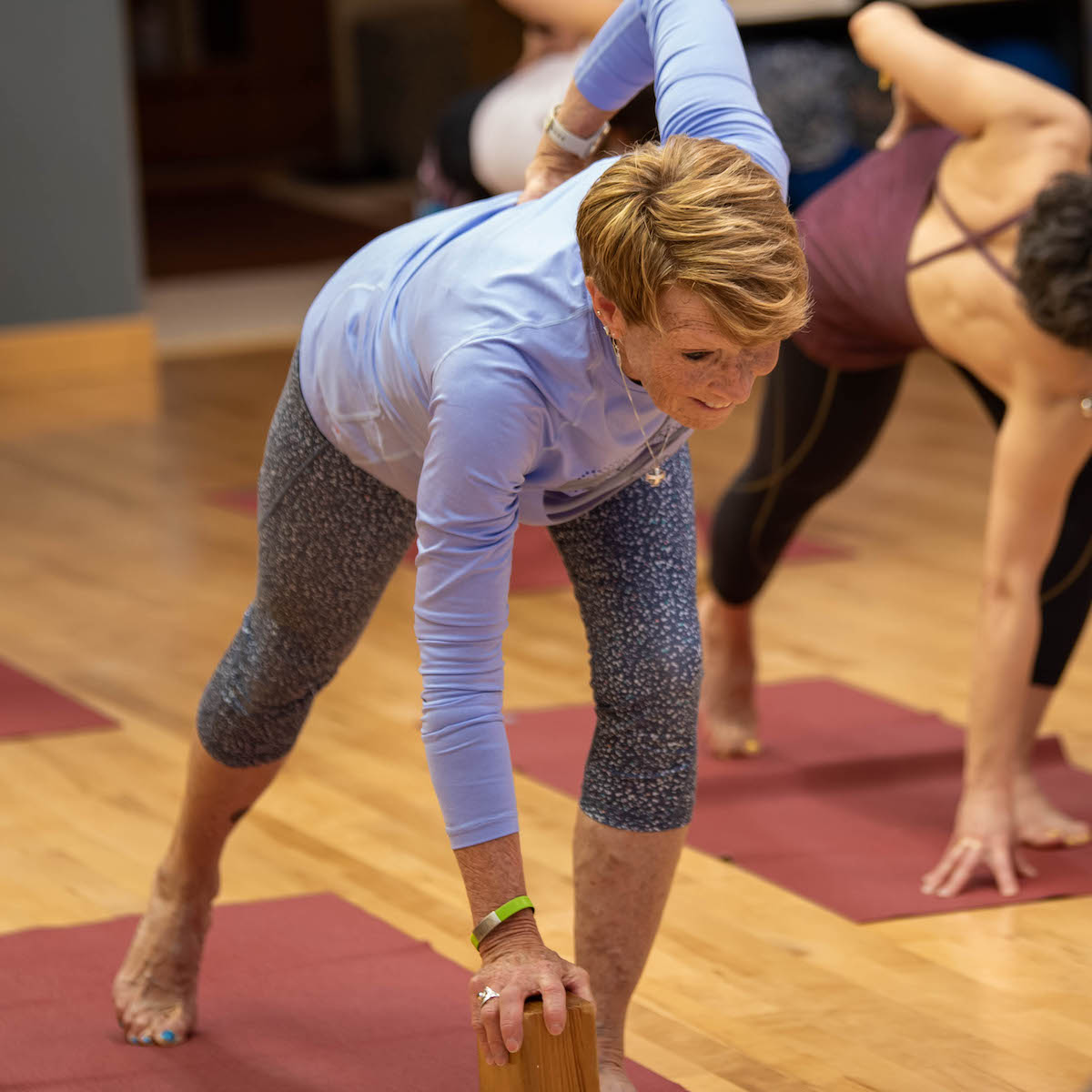 A class for students who need to increase balance and stability, and may have some physical limitations that make it necessary to practice slowly and with focus. Designed for total beginners and those who want a better understanding of the benefits of Iyengar yoga. Emphasis is on supported poses that increase mobility and strength of the neck, shoulders, spine and legs, and chest opening for optimal breathing. Must be able to get up and down off the floor.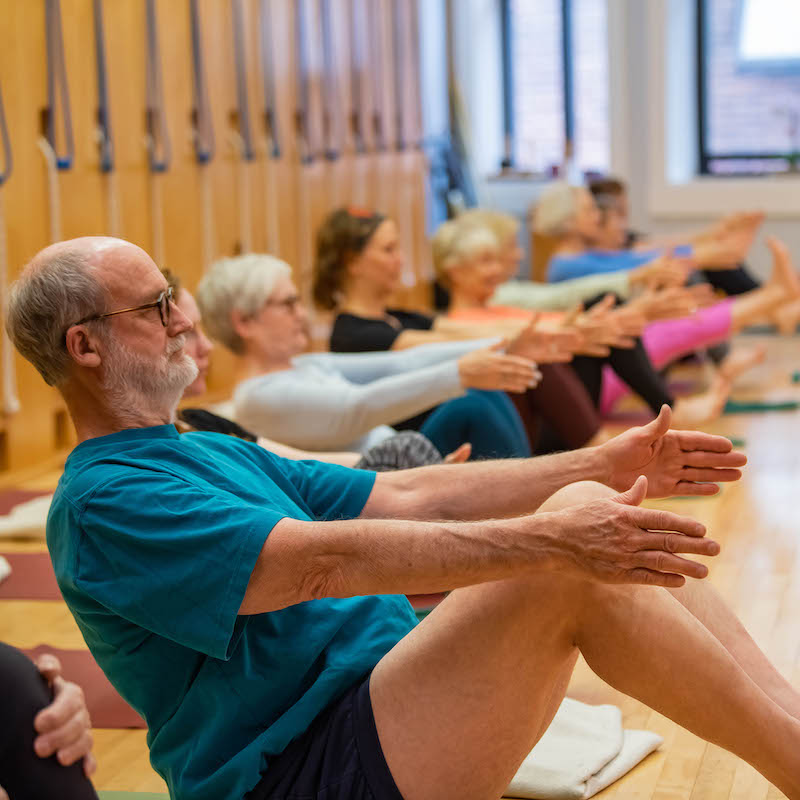 For students with some Iyengar yoga experience who want to build strength, improve balance and coordination, while relieving stress. This class teaches students how to help themselves using the healing benefits of yoga as their tool. It offers techniques for joint support, muscular strength, balance maintenance, and injury prevention. This class is designed for those whose physical limitations or injuries make it necessary to practice slowly and with focus. Must be able to get up and down off the floor. At least one session of Beginning Yoga or Ageless Beginners recommended.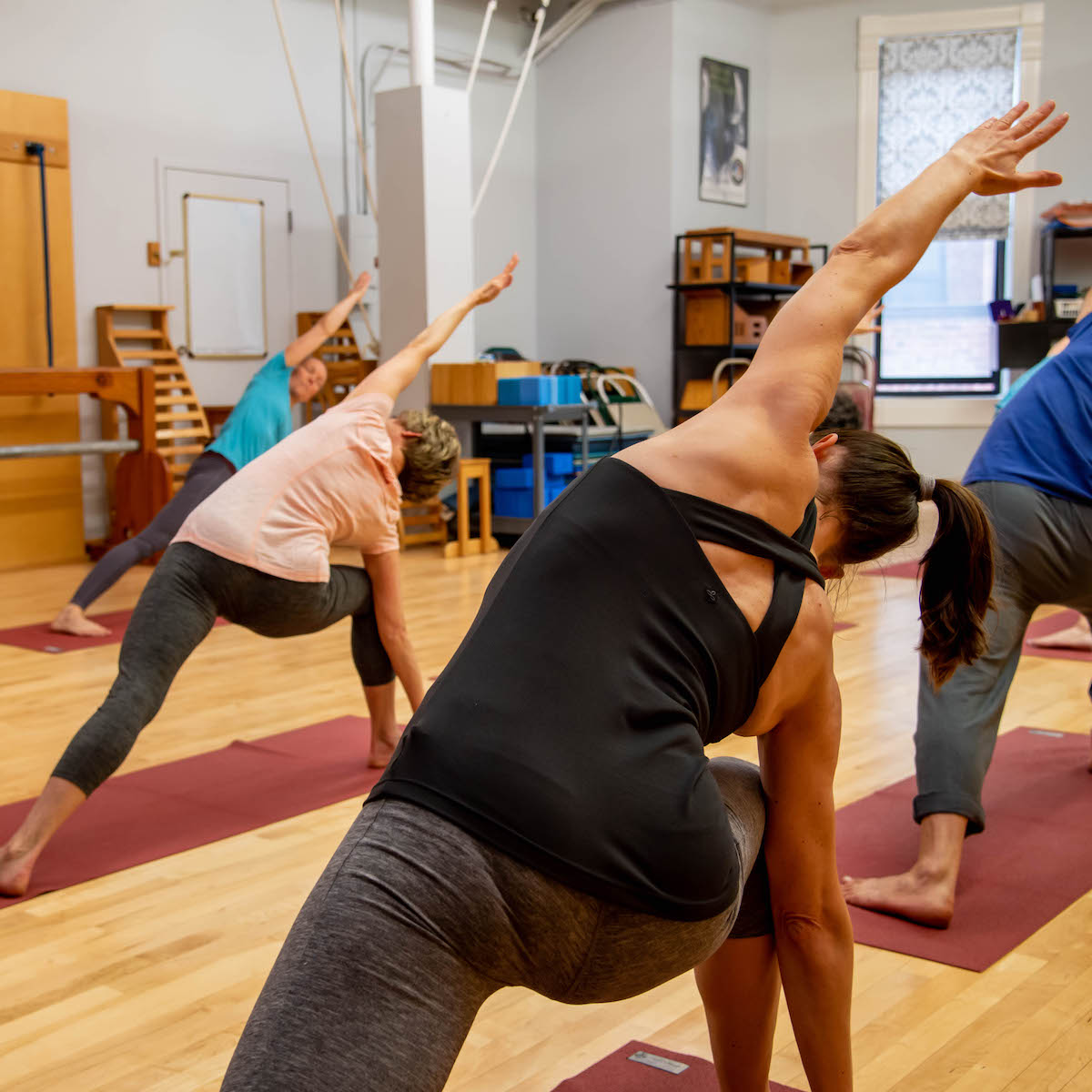 Refine & Strengthen Your Practice
A class for students with a good understanding and practice of the foundational poses. Similar to Mixed Levels, basic standing postures are refined, more complex standing postures and seated twists, more forward bends, and more backbends are introduced. Students attending this class should regularly practice shoulder-stand and headstand or know appropriate alternatives.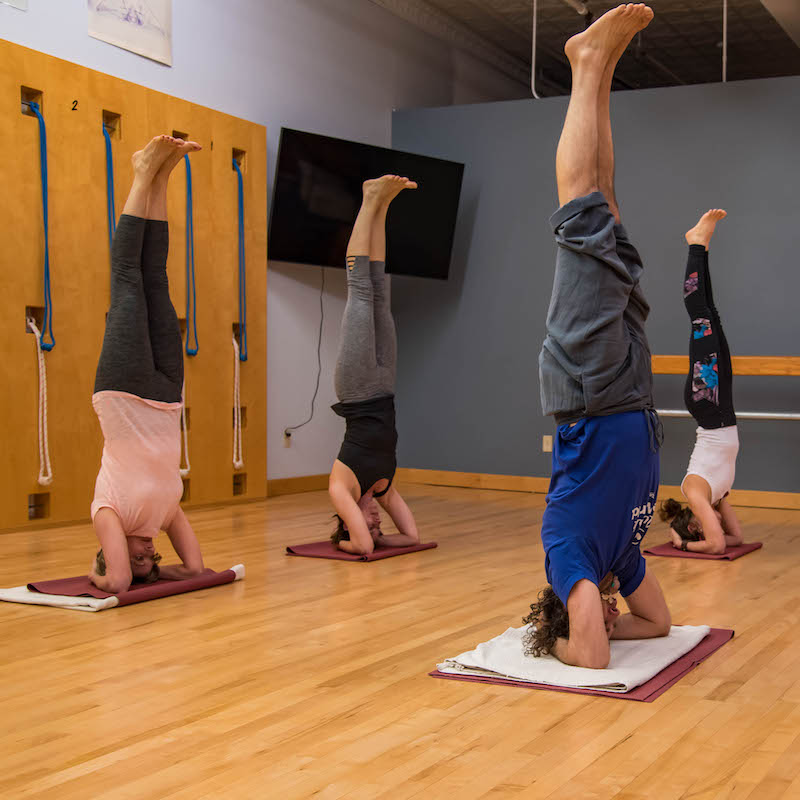 Advanced - two hour classes
A class for serious students of yoga who have had at least one year of steady Iyengar style yoga practice (or by permission of the instructor). All poses learned so far will be done with more refinement and more advanced asanas will be introduced. Students should be able to hold shoulder-stand and headstand for 5 minutes as variations of these poses will be practiced. This class will challenge your mind and your body and take your practice further.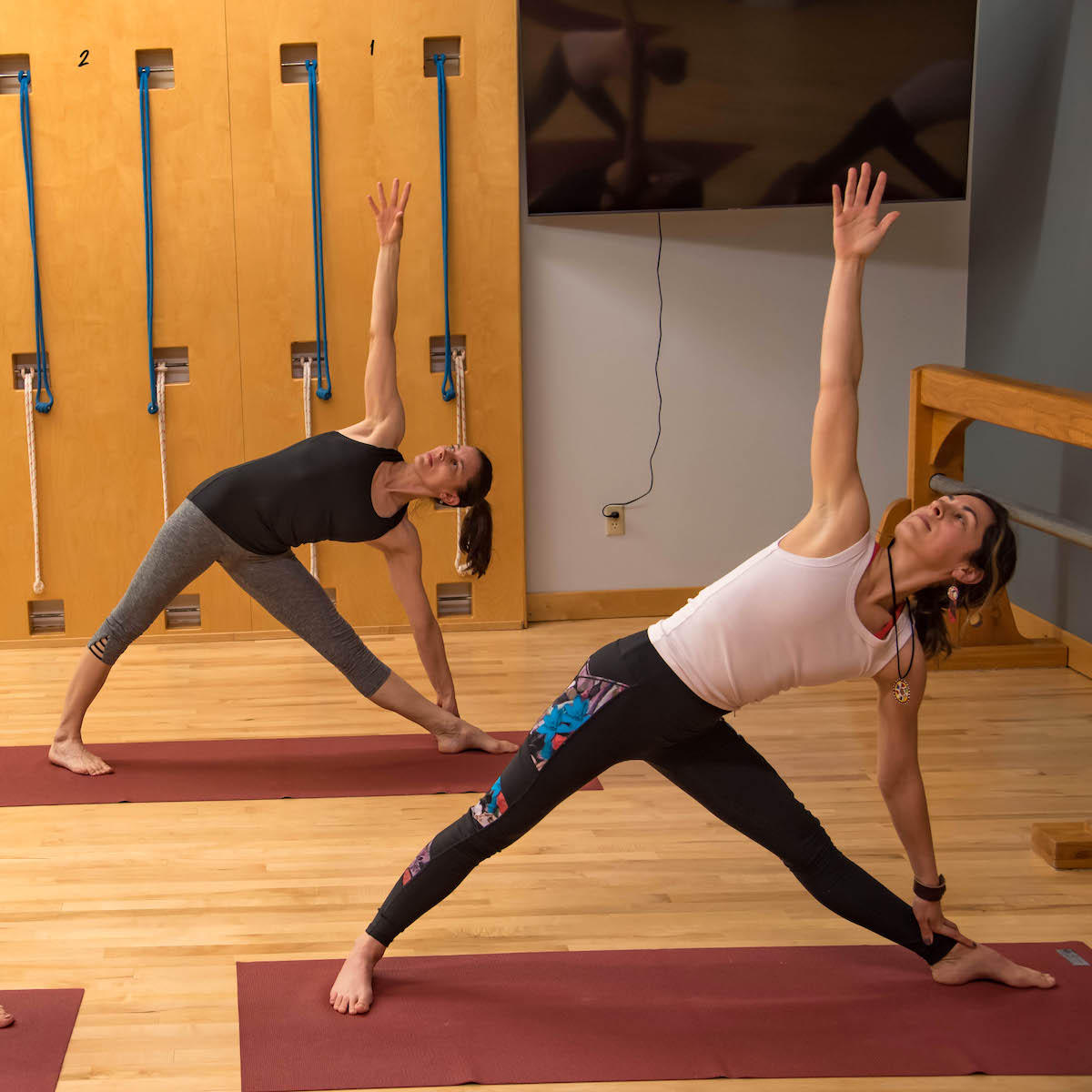 A 45 minute class offered at a sliding scale from $5 - $15 or use the membership class pass you already have. We offer sliding scale in the spirit of equity and accessibility while inviting you to support our teachers and studio. If you can pay more, please do so. This allows us to continue offering yoga to a large and diverse array of community members. We recognize that the lower end of our pricing may still feel out of reach, or you may want to take classes beyond our Community Classes. We have a special scholarship fund to provide this type of support. Contact us for more information.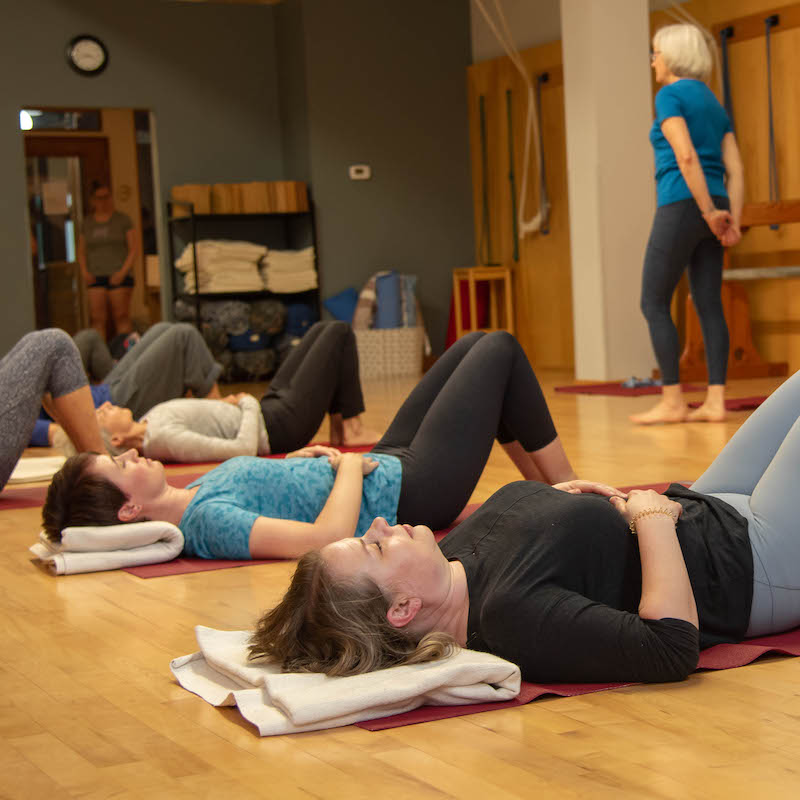 Pranayama, in its simplest form is the study of the breath. Though breath is always present in our practice, we don't always pay attention to it. These classes will teach possible prop set-ups to enhance the movement of the breath, how to observe the breath, and then some techniques to control it. Through the control of the breath we can bring our attention deeper within, learn how to deeply relax, and better understand the connection between the body, the mind and the breath. If you are new to this class, please take a few minutes to view Chris' video on Common Pranayama Setups.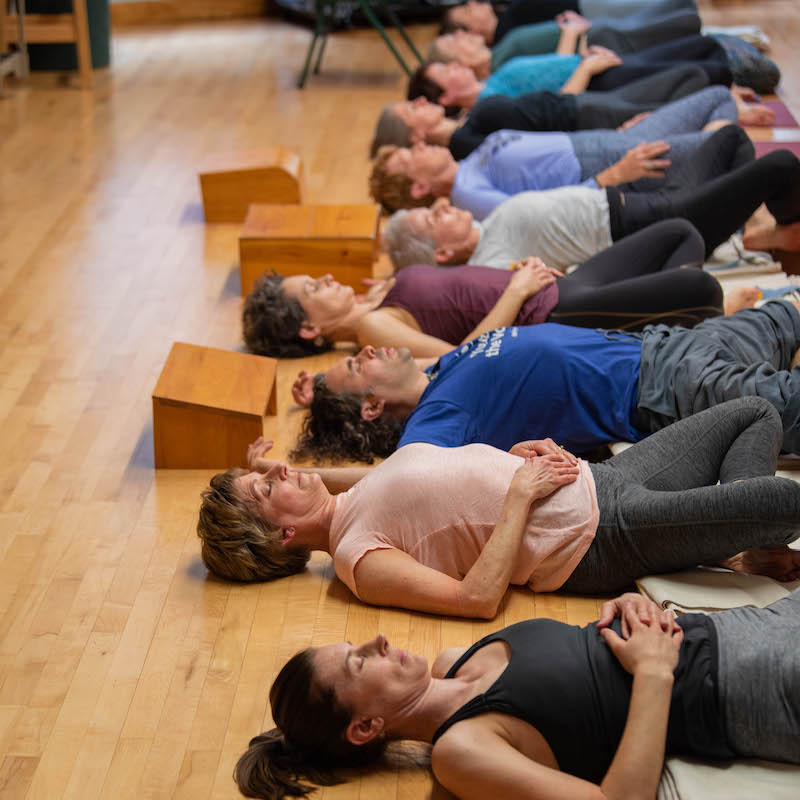 Restorative yoga helps provide physical and mental balance to help manage stress and anxiety. Through the use of props that allow you to hold poses longer, you gain the benefits of deep, passive stretching. These special restorative classes will include supported poses and breathing techniques that will rest your body and calm your mind. Typically offered monthly in most classes.