Live, online classes are offered in real-time with a live teacher and other students connecting virtually through video conferencing software. We use zoom.us which is free to download and can be accessed through a smartphone, tablet, laptop or desktop computer.
How Do I Use Zoom?
You will need to pre-register for each class at least 60-minutes before it starts.  Thirty minutes before class we will send you a personalized link for you to get into the class.
Before class, go to zoom.us and download and install the app on your device. For the best experience you will want to join from a device that has a video camera and microphone. This way, we can see and hear you.
You will be automatically muted during the session unless the teacher opens up a conversation. This is to help with sound quality. There is also a chat function in zoom where you can raise your hand with questions or issues. We will try to have a proctor monitoring the chat section for all of our classes so the teacher can focus on teaching.
If you would like the teacher to see you and your practice, then keep your video camera on. If you would like to practice privately then you can turn your video camera off. You can also scroll through and see everyone else who is in the class with you by going to gallery view.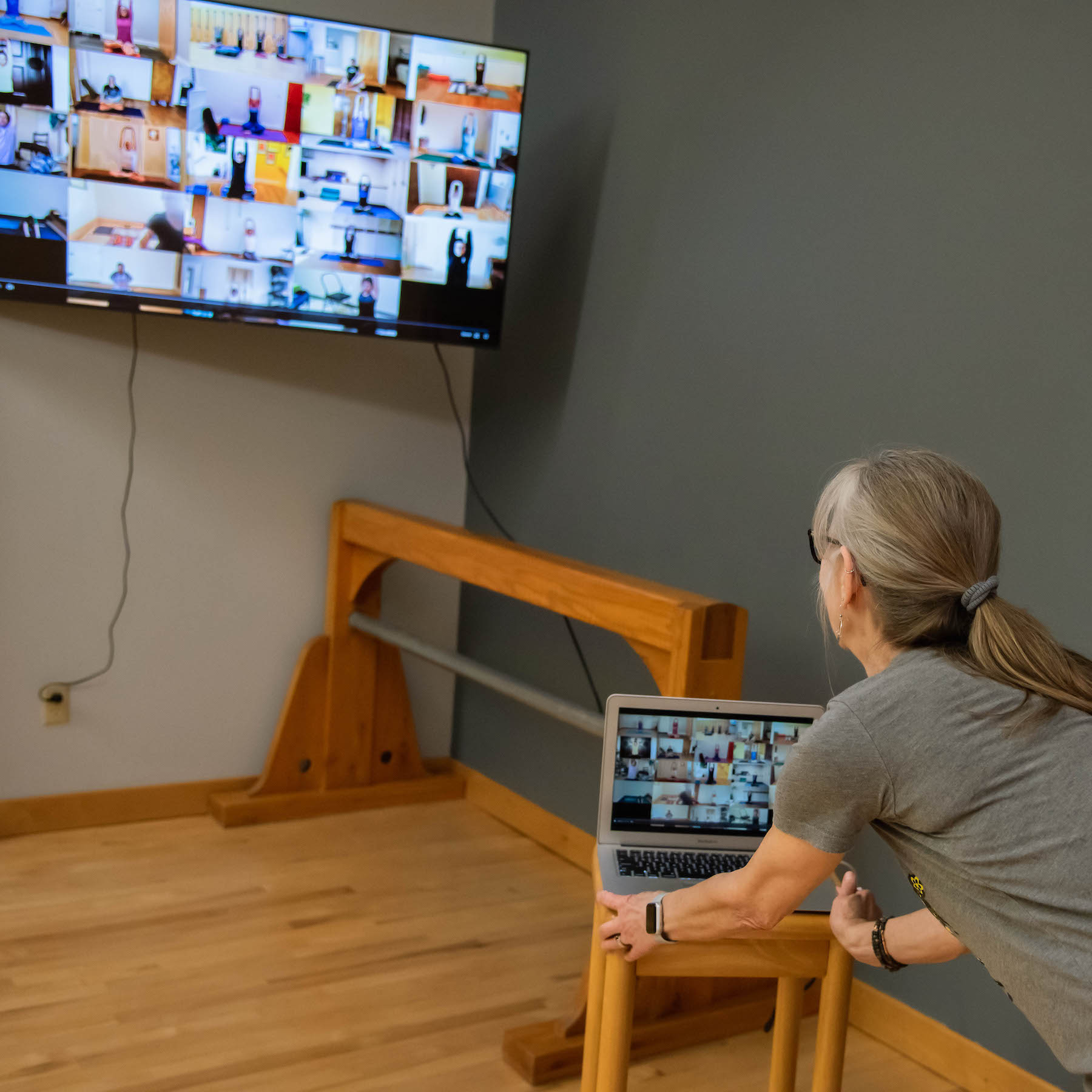 Get the Most Out of Your Online Class
Take some time before your class starts to consider your space, props, and camera....
Space: Make sure you have a space to put out your mat and can move around easily. Think about lateral poses like warrior 2 or balance poses like half moon, as well as lying down poses where you take your leg to the side. If you want support for your standing poses, try to set up near a wall, countertop, bookcase, or your couch. Or have a chair nearby.
Props: Common props we use are a strap, blocks, blankets, bolster and a chair. If you don't have these 'yoga' props, there are lots of substitutes you can use. A strap can be a scarf, belt, or tie; blankets can be regular blankets, towels or cushions; a bolster can be fashioned from rolled towels or blankets or simply a pile of towels or a cushion; a chair can be from your kitchen or dining room.
Camera: It really is nice if the teacher can see you and interact with you, but we also understand that sometimes you don't want to be on camera and that's ok, too. If you want to be on camera, take a few minutes beforehand to test out the view.  You can turn on the camera on your device and see how you look in different positions. Play around with it and step back to see what you see... that's what the teacher will see. if you are on a Mac computer, you can open the Photo Booth application; on an iPhone or iPad open the camera and then turn the lens so you can see yourself as if you were taking a selfie. Be sure to turn the camera off before you start class. Otherwise, it seems that the camera doesn't come on when you join the class meeting.