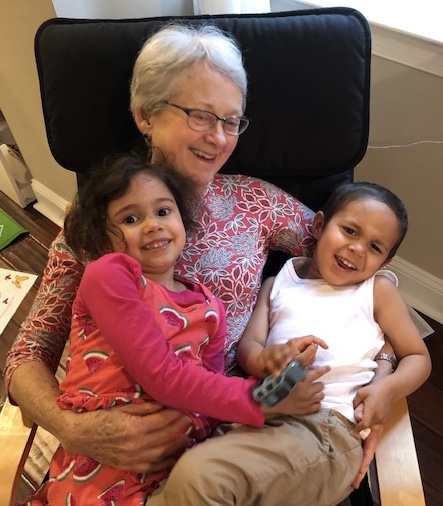 Chris Saudek has had a long, steady, and loving relationship with Iyengar Yoga that began innocently enough at a summer camp with a friend in order to find some stress relief. Since then, she has traveled many miles (including to India annually) for study, and travels the world herself to teach and share the practice she loves with others.
Before and after yoga, Chris has led a life of adventure! She grew up in Portage, Michigan and graduated from UofMichigan with the eclectic mix of a sociology major and minors in French and math. Not quite sure about what she wanted to do in life and always interested in travel, Chris put her skills to work in the Peace Corps teaching math and mechanical drawing in French to communities in Zaire (now the Democratic Republic of the Congo).
After the Peace Corps, she stayed for an extended period of time with her oldest sister in Stoney Brook, NY and began working toward a Master's degree in applied math. This is when the stress hit and Iyengar Yoga came to the rescue – not just for stress relief, but also physical relief from pain caused by congenital scoliosis.
And this was just the beginning…
The feeling of fulfillment and focus from yoga gave Chris an inner drive toward more experience with practice. After moving to Racine, WI to teach math at UWParkside, Chris would drive 93 miles one-way to study in Chicago, 100 miles one-way to Fond du Lac for more classes, and often much further for workshops. After two years of this commuting, a teacher suggested maybe Chris spend time directly at the source of Iyengar Yoga in India for deeper study.
Chris spent two months on her first visit to the Iyengar Institute in Pune, India (RIMYI). During that trip, she stayed at the Institute itself (these days students who visit Pune have to stay in flats nearby), attended daily classes, and assisted in the medical classes. She also traveled to Bombay (Mumbai) on the weekends, following BKS Iyengar wherever he taught.
Chris felt transformed, whole and peaceful at the end of each class with BKS Iyengar. The medical classes also intrigued her and sparked an interest in knowing more about anatomy and physiology. That interest brought her to La Crosse, once again back at school to complete a physical therapy degree.
After school, Chris did work as a physical therapist for many years, and yoga was always there as its compliment. In many ways, though, she finds yoga "superior", with its connection to all aspects of life – mental, emotional, and intellectual as well as the physical. This commitment to yoga as a transformational life discipline compelled Chris to open The Yoga Place after teaching through the University's extended education program for 6 years. Chris and Rose Richardson, one of her students, opened The Yoga Place in 1988 in its first location on Pearl Street. It moved to its current location on Fifth and Main in 1998, and after 27 years of running The Yoga Place, Chris sold it to Pam Starcher in 2015.
Chris does continue to teach, sharing her life experiences of in-depth study in yoga with many devoted students. She loves teaching yoga as it challenges her personally in so many ways. Iyengar Yoga in particular speaks to her scientific mind and she appreciates the methodology of practice and the problem solving within variations and modifications of poses for all bodies and minds. She is a certified yoga therapist and enjoys working with students privately as well as teaching her general classes. Her students teach her so much, and she thinks about her students and teaching much of the time.
That interest and passion for teaching is palpable! Being one of her devoted students (I moved here to be a part of this yoga community and be able to be closer to her teaching), I can tell you that Chris teaches from a well of compassion and hopes that others will gain what she has through the practice of Iyengar Yoga. She passes on the physical challenge of asana with the deep transformative teaching of philosophy. If you are a committed student of yoga at any age or level, you will find her outpouring of knowledge a welcome source!
Outside of yoga, Chris loves spending time with her growing family. While at UWL, Chris met her husband Ron when searching for someone who could make wooden yoga props (almost all the props at The Yoga Place were made by Ron). He has been ever supportive of Chris' life of yoga, traveling with her and the family to India at times and also staying home with the kids when Chris traveled alone. Ron and Chris (now married 36 years) have two daughters, Claire (34) and Kerry (30) plus two grandchildren, Beverly (4) and Thaddeus (3).
When not sharing in beloved family time, Chris has many hobbies. You might find her quilting, hiking, reading, bird watching, and cooking. She also spends a lot of time outdoors in the garden and woods around her 75 acre property.
This summer, Chris has decided to lessen her teaching commitment, but continues to enjoy teaching to all Levels of student! You can find her on Monday nights with Level I Continuing, Tuesday mornings for the Advanced class, and Tuesday afternoons for the Ageless group! You may also enjoy her books on yoga and widely used laminated therapeutic sequence cards for practice! And, there will always be more class and workshops in the Fall!