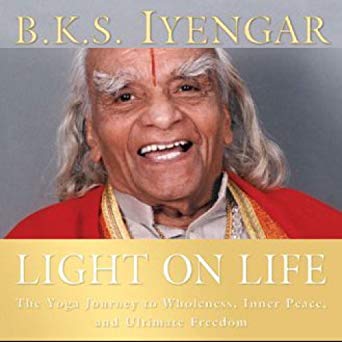 "The Yoga Journey to Wholeness, Inner Peace, and Ultimate Freedom" : BKS Iyengar
Join in our Summer Yoga Book Club!! We know it is hard to get inside when the weather is fine and the trails are calling, but support for your yoga practice comes in so many forms!
LIFE is YOGA, so to keep you alert and aware and engaged in how yoga effects every aspect of your experience, it can be nice to add a bit of study "off the mat" as well. So, while by the pool, at the beach, next to the lake, even on your bike or out on the trails (with audio books of course)…please join us in this summer boost to your practice of yoga!
Light on Life, is an autobiography of BKS Iyengar, but as always he writes in the format of introducing us to the deeper aspects of yoga philosophy and also inspires us with his full journey of practice from age 17 to 85 (when the book was published).
He was always a teacher, here to shed light on the vast subject of yoga and help us shed light upon our own experience of self. He knew that yoga had to be first and foremost accessible and practical for all to practice! It has been a while since I read Light on Life, so I am excited to share in this experience of reading, but also look forward to the discussions that ensue.
Here's how we will schedule it:
Starting June 1, I will post the pages I aim to get through in the coming week on Facebook.
At the end of each week, starting June 8, I will blog with thoughts about those pages – please feel free to discuss in class and online as you read along with your fellow students!
At the end of the summer session, SAVE THE DATE for Aug 23, we will join together in person for a potluck meal and book discussion at The Yoga Place!
The book can be found easily online, so don't hesitate to order! You do NOT have to be a student at The Yoga Place to participate! Light on Life is a great support for any practice of yoga – and may even inspire those who have yet to start!
Stay tuned for the first installment of our Summer Yoga Book Club!! Happy Reading!