Millionaires, Marriages, Mansions and More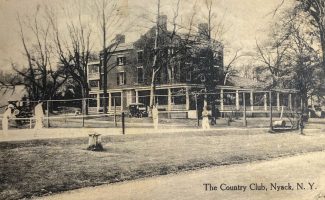 It seems that yoga has been tangled up with money and love/sex affairs since it hit the shores of America in the early 1900s – with some successful and some not so successful endeavors. Pierre Bernard seems to be one of those success stories so far, avoiding too much jail time for his continued "lurid" reputation and moving and shaking with the young women of families such as the Vanderbilts. Despite his official (and secret) marriage to his power partner, Blanche DeVries, The Great OOM continued to have women fall for his engaging presence and the promise of a life full of intrigue and freedom outside the barriers of the social constructs of the time.
The influence of money continued, but life with the Tantriks appears to be quite moderate at this time. Pierre Bernard put a focus on healthy living to avoid illness as the country recovered from the great influenza pandemic that killed hundreds of thousands of Americans. He also gave emphasis to teaching the "pleasures and terror of domestic labor" to his otherwise idle socialite followers, taking on the philosophy of "cleanliness being close to Godliness". The lodges were cleaned and taken care of in a communal manner by the members, and it may be that the riskiest behavior they partook in was wearing their forward-looking, tight-fitting workout wear. GASP!
It is through a couple of Bernard's female connections that he ultimately comes upon a beautiful property in Nyack, NY on the Hudson River. A perfect place outside the city that became the ideal place for Bernard's ultimate vision: "a country club-academy that would combine yoga, deluxe accommodations, and homegrown entertainment with his own style of Eastern education – a truly American ashram."
This land and this property was in need of some help and restoration, but the Tantriks were drawn there with a dream and a promise – "For our labors we were told that ours was a cooperative effort where we all shared equally in the ownership of these estates." (quote from Cheerie).
I am not one for communal living. For me, knowing the history of most communes, historically it does not seem to be a great idea. However, I do know the thrill of cleaning and cooking for a "grander cause" and the draw of service, karma yoga, with the aim to better your self and others. Vipassana Meditation Centers run on volunteer work alone and the "pay it forward" attitude works very well for communities who do not live together. You benefit, and you give back to those in hopes they also benefit.
But, yoga has obviously always had a strange place in American culture. Some see it ruined by capitalism or marred by cultural appropriation. We crave the healing it brings, but loath the discipline it requires. We confuse it with religion, so ban it from schools and those who may need it the most at their most stressful times. In the end, I think to this day, it is a simple fact of ignorance of the totality of the subject of yoga itself. Those who spend a lot of time and years of training and effort in gaining experience in yoga are publicly regarded alongside those with a weekend of learning alone. Payment for yoga is service pay and not at all on the basis of credentials, so the confusion of the subject to its students continues. Everyone and anyone can "be a yoga teacher", so the subject has lost its depth. Yoga has become its own "American pastime" and The Great OOM highlights so many of these familiar themes.
Is it a cautionary tale or a reminder of the power and potential the practice brings any individual? Only time will tell…I hope you keep reading along….