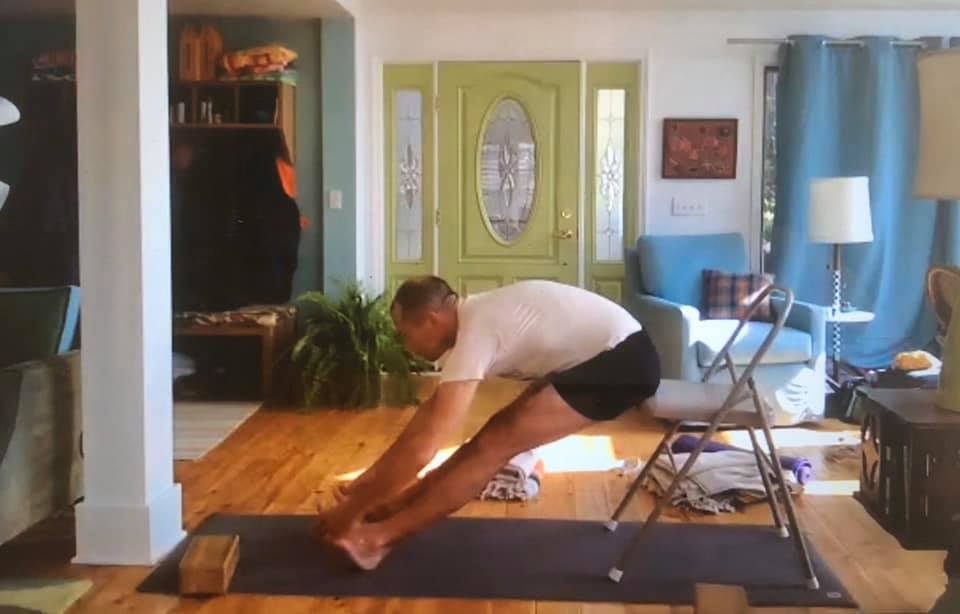 Photo Credit to Susanne Bulington. Photo of my good friend David Larsen from MI demonstrating a well supported Paschimottanasana (intense stretch of the back side of the body).
I thought I should try to catch up my missed day as keeping two classes in my head at once is a little much. On top of that, today's class (Day 4 with Abhijata) was just what I needed, even if not always what I really want – forward bends. Setting the stage for this was the reminder that there is no demarcation between the mental and the physical adjustments or experiences of asana. My physical state can create a mental reaction and my mental state can create a physical reaction – who knows where one ends or begins.
For me, forward bends are the perfect field of exploration for her topic today – Desire and Zeal (Iccha Shakti) and developing open communication to gain access to certain parts of the body. While forward bends tend to make me a little grumpy and most of the time I am practicing them my legs and my mind are both screaming, they are not ones I have a "desire" to practice. But still, they hold keys and information and countless lessons for me to learn…if I can find different ways to find comfort and communicate.
Asanas are not just physical actions to "DO". As Abhi has been striving to remind us so far during this time, asanas are there to develop access to all parts of our Self. Intention and perception and sensitivity are necessary parts of this process and today she added one more element – Iccha Shakti – "a desire to complete an execution of what you have started". This is a will power that is necessary at every moment to discover, to change, to transform – despite any obstacle or discomfort. It is the desire to "unlock the mystery" behind yoga.
The first pose she took was Uttanasana (Intense Stretch pose of a standing forward bend). "Are we really 'intensely stretching'"? To "intensely stretch" the entire body must be involved. A "fullness" of the pose must come. For many of us, one part or another stretches, but other parts are neglected. Some parts over work and other parts are lazy. We must develop communication will all parts of the body to enable a full experience in any pose. The pose itself is there to teach you. We must not take anything for granted.
Here again the use of props is key for developing communication and "comfort" (as she spoke of yesterday) in the asana (or seat). "Become comfortable with any asana and they will come running to you!" Comfort does not mean to just "do nothing", however. The effort must be there to ripen the fruit and to taste the result. It is discrimination and intelligence that have to develop to know what needs to be done – how and when and why.
With this approach, all asanas truly are for everyone! We create our own boundaries, like mine with seated forward bends. I tell myself I have stubborn, stiff, and crooked legs. They talk back like a petulant child. My mind argues back and on some level knows "this is good for me", but that is not the correct communication or approach – force creates more obstacles. Yes, we learn from a difficult child, but to gain any growth or change we also have to open communication with that child. "If you learn communication with all the parts of your body, if you learn to establish a communication channel, any asana will come to you…Communication gains access, access is knowledge, and knowledge is freedom."
Also, as we learned a couple days ago, acceptance is a key to access as well. Accepting that not all experiences are going to be "good" or "rosy" and learning to handle them moment-by-moment and as it is, we will find ourselves more in the flow and find freedom no matter what comes.
The access that we gain to each piece of our Self, through each asana and each experience, builds connection to a whole. "Connection leads to communication leads to absorption which is yoga".
I look forward to more of the opening of communication to my legs through seated forward bends, and one day I will find comfort and ultimately "rest in my own lap".