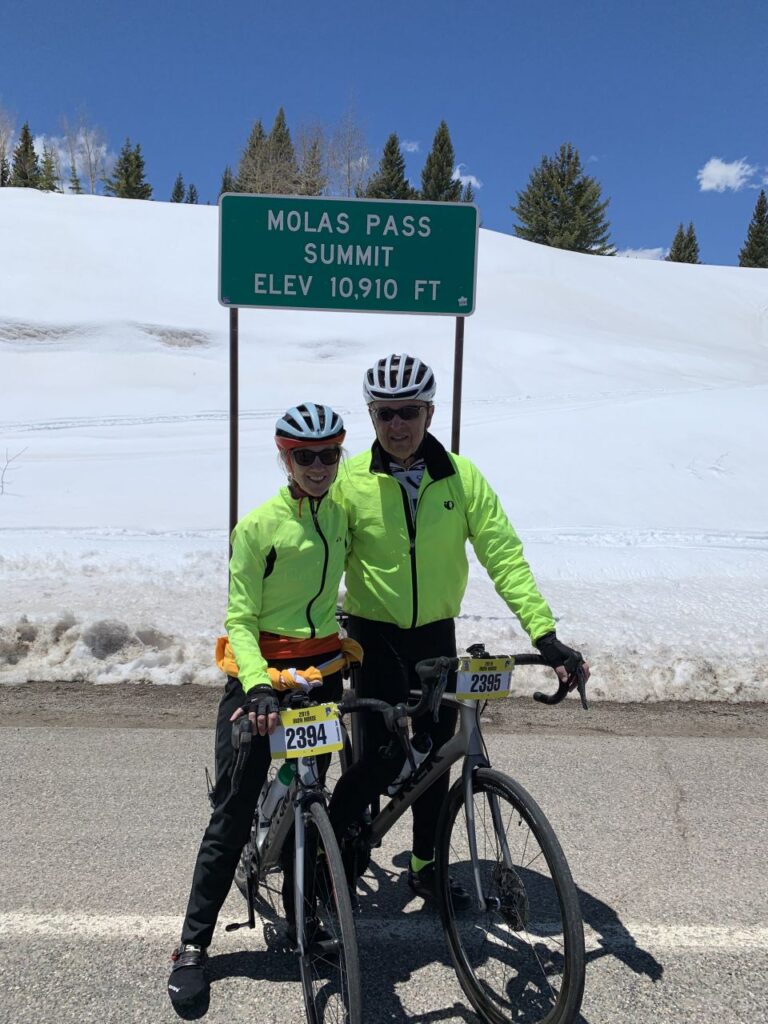 Pam Starcher landed in La Crosse, WI in 1981 for college and has been literally "active" within the community ever since. With a degree in Management Computer Information Systems, Pam worked in IT for over 30 years, starting at Trane Company here in La Crosse and then retired from Hewlett Packard Enterprise in 2017.
Pam's path to yoga was not a direct one. She has always been an active person, challenging herself at every turn – running, biking, swimming, and bringing those together in triathlons kept her fit and moving. But, all that activity also gave her a fair share of body-use injuries, mostly back and sacrum pain. When not out on the road or in the lakes, Pam went to fitness classes, but many times she found herself having to give in to the back pain.
Enter yoga…A friend of hers taught yoga, and she introduced Pam to the practice. She had an instant affinity for it, and made yoga a regular part of her active regimen. However, her internal competitor went with her at first, and proved to be detrimental. From repetition in poses that she knew she was only doing "because everyone else was", she found her hip hurting and her sacrum in worse pain. Thank goodness this same yoga friend directed Pam toward The Yoga Place, where she knew Chris Saudek was a physical therapist and an upper level instructor in Iyengar Yoga. 
Iyengar Yoga was "different" though. After so many vinyasa classes, the first 15 minutes of Pam's first Iyengar class left her wondering what was to be done the next 75 (very typically an Iyengar Yoga class runs for 90 minutes)! It was eye-opening, but intriguing. Chris' in-depth knowledge and authority of the subject of yoga quickly drew Pam in. After class, she felt "good", but also something else – something she could not quite put her finger on yet – somehow "whole".
So finally, Pam's competitive nature paid off. She challenged herself to learn more and practice more in depth, going to more and more classes to learn more about yoga – and herself. Little did she know where that would lead…
Getting tired of corporate life, but also not ready to fully "retire", almost on a whim, Pam took Chris up on her offer of buying the studio in 2015. She had an interest in owning a small business and an interest in seeing the uniqueness and high standard of yoga offered at The Yoga Place continue to serve the community of La Crosse.
But studio ownership was not the end of this yoga story for Pam. Initially intimidated by the process of becoming a Certified Iyengar Yoga Teacher, after two years of running the studio, Pam finally decided to also become a teacher.  The methodology of Iyengar, the tradition,  history and philosophy behind yoga, along with the deeper study of posture all contributed to Pam's thirst for knowledge of the subject. In the fall of 2018, Pam took and passed her Iyengar Yoga Certification exam – a welcome reward for all the hard work put in.
For Pam, it is the studentship of Iyengar Yoga that keeps her interested and engaged. Iyengar Yoga teachers are encouraged to be students first at every turn and in every realm of practice. Only from practice are we able to share ourselves more fully in teaching the students in front of us. The challenge of teaching is one that helps her best share with those that come to The Yoga Place. She hopes that she can impart to her students the feeling of "wholeness" she found through Iyengar Yoga. Pam's classes are steady, thoughtful, and engaging. There is the physical challenge of posture, but she also leaves room for quiet reflection in action, a balance that BKS Iyengar continuously challenged us to find. 
Outside The Yoga Place, Pam enjoys life with her husband and best friend Tom. They met through bicycling about 14 years ago and continue to enjoy and travel the roads and trails together on wheels and on foot. After finally tying the knot in 2017, Pam inherited a whole family to love, complete with nine grandchildren. Tom and Pam live in Onalaska with their two cats, Izzy and Sarah.
Come challenge yourself to learn Iyengar Yoga with Pam! She teaches for the early birds on Wednesday Morning at 6:30am and for the not-so-early birds at 8:15am on Thursday!