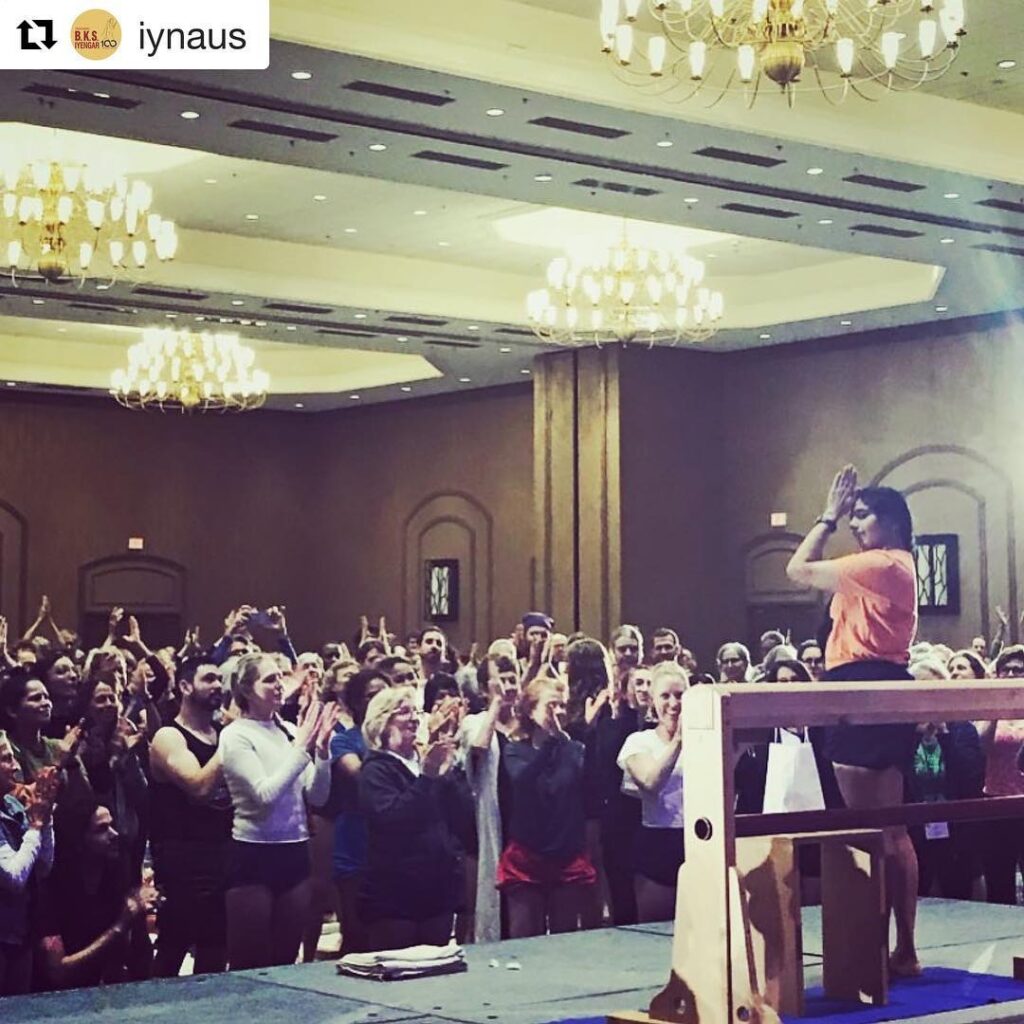 As we all make our way back home, or for me into another part of visiting in the Dallas area, there is of course a feeling of space – a day not full of class and meetings and food with friends old and new. Space to recap and reflect on what we just experienced for 6 days.
As any Convention, the IYNAUS 2019 "Exploring the Path of Practice" was a time for people of like minds or like professions to come together for connection and conversation, for growth and forward momentum. In yoga, I am assuming that these Conventions have an even more profound effect on participants. We are there to practice our art and science and philosophy. We are there to delve deeper into this subject that is transformative and inspirational.
For 6 days we had the great fortune to be taught by Abhijata, BKS Iyengar's granddaughter, and she is a force to be experienced! Bright, passionate, loving, fierce, and funny, she brought joy to our hearts and challenged our minds.
She definitely brought much needed clarity and the beginning of closure to a rift within our community. As she stated, we are family brought together by our love of the subject of yoga and our dedication to the path that Guruji, BKS Iyengar, laid out for us. We have to be reflective of all of our actions and watch our intentions behind everything we do.
She urged us not to be afraid…in yoga and in life. To find ways to choose new threads or at least be aware of the mental patterns that keep us following the same threads over and over. Becoming more aware and being able to break habitual perceptions and impressions in our minds, we might take small steps toward the stilling of fluctuations of our consciousness, the true goal of yoga.
But, we also have to remember to have fun and keep experimenting! Be a youngsters of heart and in mind. Habits are a disease and conditioning is a trap! Can we break out of old habits and identify the conditionings that keep us separate from ourselves and each other?
It is a new world with new obstacles and social structures that challenge yoga itself as a tradition and as a discipline. As we acknowledge our tradition and hierarchy of teachers can we also move forward into a new way of sharing and teaching and evolving the subject?
The last day questions from Abhi will stick with me for a while and I hope will drive us all to communicate more clearly and regularly about what we need and envision for ourselves and the future of Iyengar Yoga.
BKS Iyengar truly was a bright fire, the soul of Iyengar Yoga that lit so many other sparks. Geeta Iyengar was a force of nature that touched the heart of many more. Abhijata is like the breath. She has always been here, first quietly and humbly doing the job she was meant and born to do, but now noticed and invited into all corners of the world, it is obvious she is the very underpinning of a new life to be given to Iyengar Yoga.
As she stated many times, we ARE family and our love for each other is mutual. We may not all have to get along or even like each other all the time, but we are bound together by something stronger than mere egos and personalities. We are bound together by love – of subject and practice, of experience and philosophy, of breaking boundaries and building freedoms. We are bound together by YOGA.
Namaste everyone! Safe travels home! And see you back in La Crosse soon!