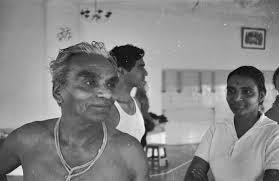 Today was the second class with Prashant Iyengar this month and it is also Guru Purnima, an auspicious day of celebrating the lineage (parampara) of our teachers. As we celebrate the external Gurus, honoring the gift of the teachings of yoga passed on for generations and lifetimes, Prashant is always there to remind us that the ultimate Guru is within each of us. His mantra for today encapsulated the ideas of "overt, covert, and convert" in practice.
He started out with a little more from yesterday about the difference in effect and feel of the instructions "straighten" and "stretch" within asana. And quickly he challenged our view of what we think an asana is.
"Poses and Asanas are different things. A pose IS a posture, but asanas HAVE a posture."

paraphrased Prashant Iyengar July 2020
We are really good at seeing yoga from an overt standpoint. The physical representation of a pose is just that. Doing a pose is just that. We do point by point by point without integrating or reflecting on what those points bring about within us. But, as we look to the more covert applications and effects of asana, we convert physical yogaaaahhh (a very Prashant way of speaking to distinguish physical yoga from classical practice) to "consciousness yog" (classically written, much of the time yoga does not have an "a").
"Consciousness Yog" requires an educative process and, as he spoke yesterday, a happiness in gaining knowledge. A true external Guru is there to unveil and unleash the inner Guru, but to uncover and fully let that inner Guru come to light takes time and education. To be blinded by the external light of a teacher keeps us from realizing our own light and inner teacher. That blindness can also keep us at the overt level of practice.
The external Guru can only see what can be seen. So, as the overt instructions are given we must realize that we come to practice with our own covert "approach", "application", or "condition". He asked…"How many Sirsasanas (headstands) are there?" and we may answer, only ONE! However, what about the headstand when you are 20 as opposed to when you are 75? How about the headstand in the heat or the cold? How about the headstand when you are tired or fresh? All of those are different headstands, so there are numerous headstands to be experienced over a lifetime during countless conditions. You have to convert overt instruction to covert application according to the present conditions, not just by some thought of what is deemed to be an ultimate "right or wrong".
There are many other ways he describes this approach to yoga through an educational process. Since we are in the modern age he sees this full and deep approach to yoga as the 5G approach, giving us all encompassing access to every aspect of our being. Also, he reminds us that "posture is physical" and "gesture is mental", so the gesture and intention of an asana is just as important as the posture itself.
Blessings to you all on this Guru Purnima day…may you honor the light from all your teachers and gain knowledge to uncover the Guru within YOU!!