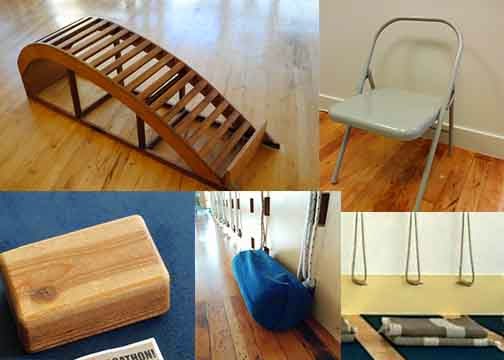 Iyengar Yoga is known for its use of props – blocks, blankets, belts, wooden contraptions, rope wall, etc…From the outside looking in, I know that this gives a sometimes weird and mostly wrong impression that we are a practice only for those with "issues" or "problems" or "injuries", that we are "slow" or always "restorative". And, yes, though it is true that a prop is used sometimes for actual "propping" of poses, that Iyengar Yoga can give variations and accommodations for all the above, it is not the ONLY or, in my opinion, even the most powerful use of a prop.
We really should find another name for these toys, tools, keys, teachers, or (in very Prashant Iyengar terms maybe) "intelligizers"!
Props can be a very direct and dynamic way to bring life to dull areas, to create space where there is none, to bring the mind into concentrated effort within action. I broke into an immense grin in class the other day and was once again amazed by this practice as we used a different prop variation in a pose that I pretty much do every day. Basically making the "usual" brand new again! In other words, props can bring excitement too!
Each prop applied to the same pose is another avenue, another viewpoint, a new experience of, and a creative approach to practice. How many Downward Dogs have you done in your life? What if you used some better power with your hands at a wall? What if you hung by your hips on the ropes? What if you relaxed your head on a support? What experiences are you missing without all these options? Each Downward Dog we do should be a new experience, a new process, a new adventure towards better knowledge of our Self!
Movement is a lot about habit and yoga is here to help us break physical and mental and emotional habits that do not serve us. And, the first obstacle is recognizing those habits! Props are an external "eye", an imposed restriction or traction or action that can break our habits and bring a new perspective to practicing our asanas.
For so many, it is difficult to see props as "good" as "useful" as "fun", and even when we know we need them at times, we usually are trying to get rid of them as soon as possible! But that is our ego that says "those are not for me", "I don't need that", "I'll only use them if and when I have to or if my teacher makes me"….
Be challenged to look at the prop a little differently! Find joy in the exploration of your practice from every possible angle! The POWER of knowledge is the POWER that lies within the prop! And that is the POWER of YOGA!