Tradition,Character and Imagination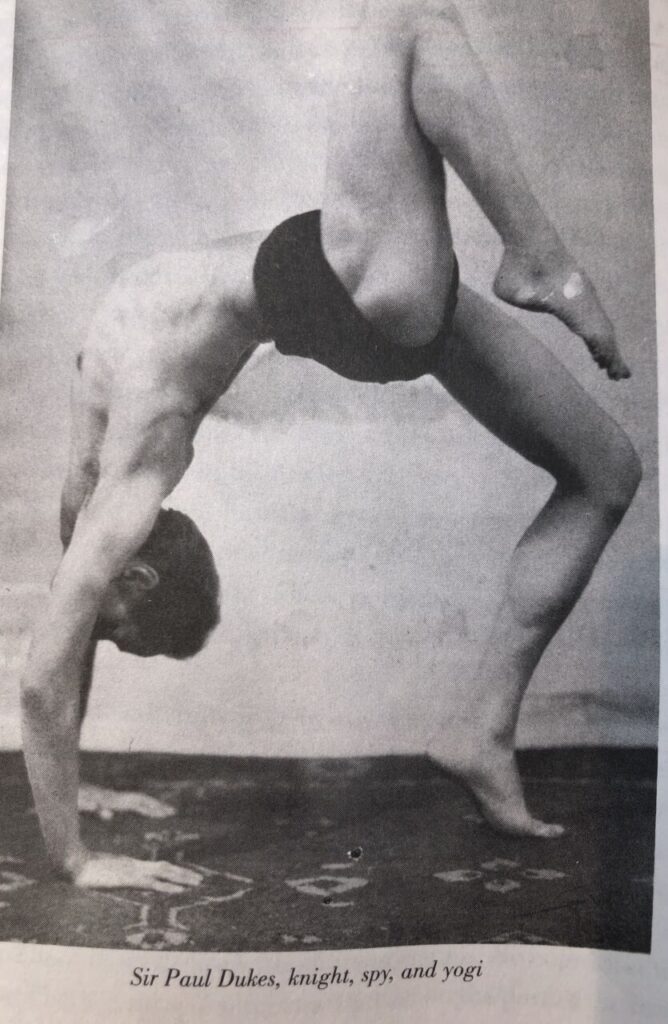 Chapter 13 and 14 of The Great OOM brings us back to the foundations and tradition of Bernard and the Tantriks, and moves us forward into a new era introducing the next famous follower, a British spy named Sir Paul Dukes.
Even though Bernard knew he needed to have a "cover" for the more taboo traditional Indian practices of yoga, presenting to the masses the "country club vibe", for his devoted followers, the real work of yoga continued. His foundational teachings of Sanskrit and the ancient texts of yoga, deep study of asana, pranayama, and meditation were still a part of his curriculum. He knew that this practice was not a flight of fancy, but a life's work that required time and discipline to "build character".
"Bernard believed that the human body, as part of the divine universe, was worthy of worship. The body is the sole vessel of our consciousness, he said, which in turn is the only earthly path to enlightenment and freedom. These are goals toward which we should be constantly evolving. In fact, as Bernard put it, the material world is lit to its atoms by the spark of God. The key to the mystery of life – if you care to know – is this unrealized unity. Our tragedy is that we fall for the illusion of separateness- maya, in Sanskrit…Our mission in life is to realize the divine within us and without. How to do that may take years of training."

The Great OOM by Robert Love – excerpt from Chapter 13
"Effort and sweat" were required in all aspects of life to "build character", Bernard taught. This is an example of what we might refer to as "Karma Yoga" today – doing all actions for the divine and the betterment of our own souls. The other ingredient in Bernard's approach leaned heavily on the idea of imagination. For so much of modern society, a lot of yoga requires imagination first, and imagination also requires trust and faith in the subject itself.
"Imagination, one of the grand themes of Bernard's life's work, stands as an idea fixe in his thirty years of lectures. It is Bernard's term for a well-developed action-oriented consciousness, which motivates meaningful human activity. Without a study of it, he insisted, yoga devolves into a series of postures and puffs."

The Seat OOM by Robert Love – excerpt from Chapter 13
Chapter 14 introduces us to The Great OOM's next influential follower. Sir Paul Dukes was a British Spy making rounds in the US on a speaking tour when he was introduced to the "charlatans preaching yogi stuff". He was immediately intrigued as he had been a seeker of such knowledge since he was young. His work obviously made him a worldly and cultured man, but he also yearned for the deeper meaning within the teachings of yoga. He went to Nyack soon after and to his dismay was turned down for membership. It is obvious that Bernard had high standards for his group, "not primarily wealth, station or class, but the genuineness of the applicant's desire for knowledge."
The rest of this chapter seems so familiar being in a traditional form of yoga practice, Iyengar Yoga, that demands the same work of character and dedication to the subject. Bernard's teachers taught postures from a platform and students learned to stand on their heads. Sir Paul asked eager questions and wanted to learn immediately why standing on the head was so important. Bernard's response was "If you stick around here a bit, you'll see. That isn't the only thing that's important. Lots of things are important." And, "Dukes was impressed with the clarity and force of Bernard's arguments for yoga. In the fuzzy world of metaphysics, he had learned, clarity is the rarest of qualities. 'The background of true yoga,' Bernard insisted,'is not booklore or metaphysics, but character. Without character all the booklore or metaphysics are as sounding brass or tinkling cymbals.'"
BKS Iyengar and his immediate Western teachers are also seen as "clear", "intense", or "sharp and strong". The Indian way of teaching is not always as soothing to the Western psyche as we would like. But, without this idea of character building, of changing our own habitual approaches and learning to look at ourselves more clearly and alertly, we will miss the juice that can be squeezed from this amazing practice. The "tinkling cymbals" cover up the study, learning and transformation of yoga.
Sir Paul finally was accepted into the group and subsequently became an avid practitioner and follower of Bernard. He became integral in changing the face of the Tantriks in the public eye. He called the accusations of scandal and adverse views of the practices "based upon jealousy and ignorance." Those who are critical, he knew, had probably never experienced the teachings or the club itself.
With this public shift, the start of a new era for the now called "Clarkstown Country Club" began. It "was to be the site of new vistas of creativity combining the spiritual and the temporal in ways the nation had never seen."