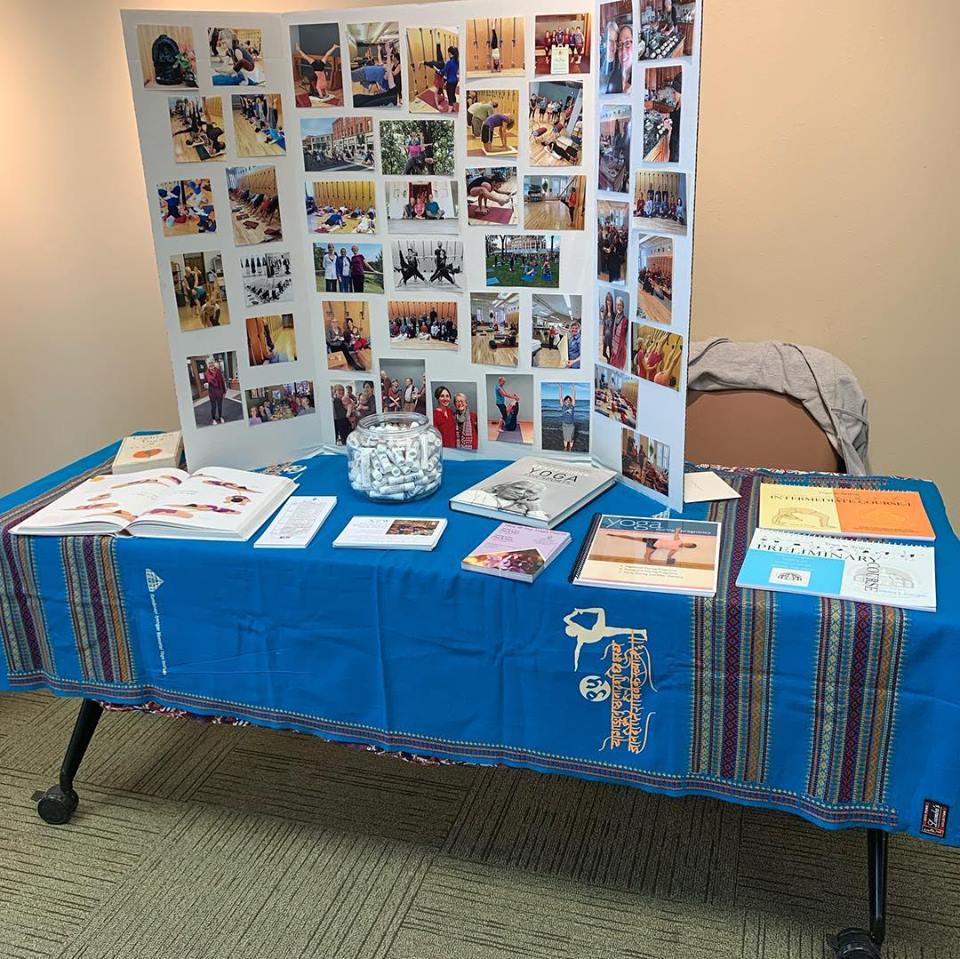 Pam and I hung out at the Earth Fair on Sunday and what a great way for me to start to "meet" La Crosse. It has been a while since I have done a fair, but I have to say, they are a great reminder of what people do and don't know about yoga – particularly Iyengar Yoga.
For, me doing this Fair was also a reminder that there are really three distinct groups we could look at regarding yoga goers….
Actual "Youngsters" – The students and the curious that would love to do more yoga, but drop in and out as they are able due to their school schedules and finances
Working parents – Probably the hardest population to acquire to a "studio" setting as they have their families enrolled in larger gyms and/or they are members of their work-provided healthclub
Retired and Skeptical – Not sure that they can do yoga for numerous reasons including physical and financial, but have the time to commit to themselves
Bringing the above groups together in a space that accommodates all their needs is of course always a work in progress. However, in having the opportunity to talk to members of each of these populations, I am ALWAYS encouraged. I remember, and KNOW, that Iyengar Yoga is good for them all.
For the youngsters, Iyengar Yoga offers ways to channel their energies away from stress and social pressures toward positive self growth and self awareness. Wandering into an Iyengar Yoga class, there is no need to look a certain way or have certain knowledge. The mental curiosity of learning a new subject is there, and Iyengar Yoga in particular is a great balance to any other physical activities they may be participating in, increasing body awareness and keeping them less prone to injury. What I found is that many youngsters are of course doing yoga, but may never have heard of Iyengar Yoga (GASP !!!!). What they don't know is that Iyengar Yoga provides the full gamut of practice – mobility, stability, breathing, restorative, and study. the one obstacle is having a long-view for their yoga practice…acquiring a skill that will serve them their entire life instead of the "thing to do right now".
For the working adults, of course yoga is the very thing they "need", but have trouble finding time for. Being able to 1) carve out a time for themselves away from kids and spouse and work duties and 2) have energy to get somewhere to take that time can be difficult. The great thing about Iyengar Yoga is that it does offer such varied practices. No energy? You might need to restore yourself with more relaxing poses. Anxiety? Bringing yourself to focus on the inner world away from the outer stresses is key. The moments you are able to sit or stand on a mat, in your own space, allows you to breathe again and prepares you for the next day and project.
For the retired and skeptical, those with the most time on their hands and the most need to keep moving, Iyengar Yoga is a pretty easy sell. BKS Iyengar was the one who formulated the use of props, and was the original developer of "therapeutic yoga", which is now a buzz word, but an actual base of practice for Iyengar Yoga teachers. No matter who wanders in the door, Iyengar Yoga teachers are trained to help and adapt the practice accordingly. Whether still very active or with numerous issues, Iyengar Yoga will be the thing that keeps you moving through it all.
Many of us just came back from our Iyengar Yoga Convention with Abhijata Iyengar, the grand daughter of BKS. She referred many times to "youngsters" in the classes, giving variations on things to capture the whole varied group, until finally someone asked her to clarify this distinction. Her response was a reminder that she grew up watching a "90 year old youngster".
BKS Iyengar practiced everyday of his life from age 17 until 96. For me, THIS fact is the MOST IMPORTANT distinction of Iyengar Yoga. Personally, I have been able to practice through back issues, knee issues, knee injuries, depression, and anxiety. It has given me tools not to stop and give up, but to experiment and transform along with my physical and mental changes and challenges. These will happen to all of us at some point, so why not find a practice that will keep you keeping on…from youngster of age to youngster of heart…