So, What's the Difference?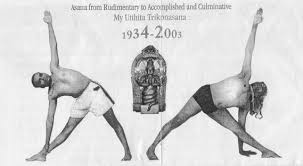 Had a great time teaching First Friday Yoga class last night! A great mixed group of current students and brand new to the practice. I still get a little nervous teaching a new group just because I want them to LOVE the practice as much as I do !!! How do I show it all in one hour? Impossible…but, they can have a taste, and from that maybe be curious to try again.
As usual, there are questions after classes like these. And, last night it was from a lovely young woman who has done a lot of yoga, but "never experienced anything like Iyengar" – never heard of it – which still boggles my mind of course, but I also have to realize the unique place I began yoga – studios that offer so much variety of styles do not really exist anymore. If you do Vinyasa, you do Vinyasa, if you do Hot, you do Hot, if you do Iyengar, you do Iyengar, etc…I was lucky that in a big city like Dallas, back in the day, I only had to go to one place to try Vinyasa, Ashtanga, Jivamukti, Iyengar, Power, etc…
So, what's the difference? She asked…what is this "Iyengar" ??
Well, it is also difficult to answer that question in a tagline or moment after a class. This is something EVERY Iyengar Yoga teacher has worked on their entire career, sometimes giving up and just hoping that folks will continue to walk through the door, just keep giving it a try. "Experiencing it is the best advertisement" – yes, well, that means people actually have to walk through the door…and not just once…at least a few times…
You see, Iyengar approaches Yoga holistically and with a long-view approach. The vast practice is not accessible in EVERY class and usually a series is needed to get the "whole picture". We cover categories of poses over time, giving ways to tailor those poses specifically to YOU, so you won't flow through a whole gamut of poses in one fell swoop. This is weird in today's experience of yoga where you can get in, flow through, sweat out, and feel awesome.
It is the goal of yoga to become aware of EVERY cell in your body, literally for the purpose of knowing your self fully, inside and out, without blank spaces. That means you have to take time to experience a variety of things, with a variety of approaches, not avoiding things that might feel "not awesome", break habits that aren't serving you, and first you have to know which ones those are.
So, the method of Iyengar stands out as "odd" and "different" from today's "yoga norm" for a few reasons:
SEQUENCING – we spend a lot of time and effort as teachers building sequences that effect and are good for the body, mind, emotional state, and organic workings of the student. This means that each sequence has a purpose of effect and very typically is of related poses within one class, not poses that jump from one category to another, which can actually be a disturbance to mind and body in the long run.
TIME – we spend time with poses, in Iyengar's words, we develop a "relationship" with poses for the purpose of gaining knowledge of our self. But that doesn't mean we are just holding poses for long periods. It does mean we will repeat things so that you might sense something new each time.
PROPS – do not make things easy, nor are they for the old and infirm!! Ask anyone who has needed to use one, and typically it has made the pose more challenging in ways never expected. A prop is an extra support and teacher.
TEACHING – when you enter an Iyengar Yoga space, our aim is to teach you a skill that will last you a lifetime. So, it does take a bit of time to open up to that and allow for new information to flow. We are not there to just guide you through something, but to give you tools to "see" yourself in different ways and through different lenses.
BKS Iyengar did yoga from age 17 to 96. This is the goal of Iyengar Yoga – to keep you moving well, aging well, learning, and "young at heart" for your whole life!! When we are young and agile in body and mind we have to flow – Iyengar Yoga does that. When we inevitably get injured through life, we can't just stop – Iyengar Yoga keeps you going. And in the days when the body cant move as well, but the mind is still clear, being creative in our approach to movement is needed – Iyengar Yoga does that too!
We have to open our minds to see the WHOLE of what Iyengar has to offer. All of Light on Yoga still exists as well as The Path to Holistic Health. I encourage you to stay curious about yoga, don't get stuck in preconceived notions or habits of schedule, come give Iyengar a try for the first time or again…you might be surprised!!