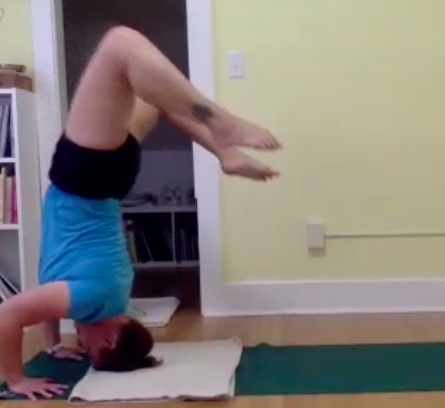 Well 2020 was a weird one, huh? It was a new year full of new experiences that I am not sure any one of us could have predicted. Even the way we experienced yoga was new for most of us as well! Being forced online to teach and take class brought some great benefits to many and maybe some frustrations too, but we got through it and will continue to until we can all be safe together again!
As crazy as 2020 turned out to be, what an opportunity to delve deeper and become closer to your own self and practice (whether we liked it or not)! This does not mean positivity all around of course. As many of us know, the true path of yoga is full of obstacles. Developing compassion for others and for your own Self despite these obstacles is where the real work of yoga happens. To ignore what is happening or to hope for the "normal" to magically begin again is fruitless. Every moment, every NOW, is a time of change and transformation.
Many of you have carved out a space in your home for yoga now. The pets and laundry and kids and distractions that may previously have been an excuse NOT to find the time or space at home are no longer an issue. As you invited your teachers into your own homes, you took the time and space for yourselves no matter what. And, in your home practice you might have found new ways to do things, new inventions of props, new relationships with your space. Home practice, as I always say, is where the true magic of yoga can happen.
I too found a little more magic this year. Maybe I should have logged the hours I spent in my yoga room, but between practice time, class time, and teaching time, I would bet it was a lot. Being able to take class with teachers from India gave me the spark and incentive I feel when I travel to the Iyengar Institute, recalling long practice times and leisurely study time right in my own home. The pace of life slowed down, but learning and investigation deepened.
I'm not gonna lie, I have missed teaching in person a lot. Zoom for me is missing the energetic boost that comes from the teacher/student interaction. I feed off of the student learning as much as I do just sharing knowledge, and the little Zoom windows leave something for me to be desired. On the student end you can soak up the teaching no problem, but on the teaching end it is unclear for me what is being transmitted. Still I LOVE to see your faces each class and it is always an honor to share in the teaching of yoga with you. The summer book read of The Art of Happiness became a perfect fit for the troubled times and our Yoga Sutra discussion group has been a great way to connect in a different way than just teaching at the screen.
I think every New Year we hope for something "new", something "better". But, ultimately we are responsible for how we view whatever comes our way. Yoga teaches us to look more closely, more deeply, and more truly at life. Say goodbye to 2020 however you need to. But, as you look forward to 2021 consider that deeper dive, that closer look, and make it a whole New Year for your YOGA too!
The Yoga Place is here with new offerings and workshops in 2021!! Check out the schedule soon and sign up for the links as always!