Back Extensions – NOT "Bends"!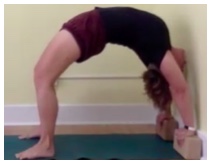 There are many reasons the Iyengars are geniuses in the practice and teaching of yoga, but one is in their use of language and posture names and their insistence that we know them and use them well. Why? One example is that we very often find ourselves casually referring to back-bends and forward-bends as just that, "bends", and that translates in our mind as a "bend of the back" whether forward or backward in direction. In reality, the translation of the categories of these poses use the term "pratana" (extension) – paschima pratana for extension of the back side (west) of the body (in what we would refer to as bending forward), and purva pratana for extension of the front side (east) of the body (what we would refer to as bending backward).
Next Monday evening will begin our 4-week study of the purva pratana sthiti – positions of extension of the front side of the body – in hopes to review the foundation of building a strong and supple spine for the practice of back extensions more happily and safely.
"The asanas of backward extension are fascinating and attractive but one should be cautious and know how to introduce them."

Geeta Iyengar in Basic Guidelines for Teachers of Yoga
When faced with back extensions in a class setting, there are either those who are gung-ho and excited about it and then there are those fearful of what they mean for their back or back pain. Done well and with awareness and sensitivity, or with props and guidance from an alert teacher, back extension are actually some of the most therapeutic category of pose for back care. We just have to know how to approach them.
For Iyengar Yoga practitioners, approach and sequencing is everything. And according to the Iyengars, back extension practice actually comes well after the understanding and practice of ALL other categories of posture – standing, sitting, forward extensions, twists, inversions and even abdominal asanas all support the extension of the back. Looking at different postures more closely and with an eye toward our back extensions, we can build a stronger foundation for the physical and mental balance needed to approach these "fascinating and attractive" ones.
And back extensions ARE important. From the "smaller" prone back extensions to the larger Urdhva Danurasana (upward bow) we find a boost in mood, an internal heater, and energy stores where maybe we felt we had none. To build strength and suppleness in our spine from these positions can literally help us in all of our everyday activities and help us avoid injury in other avenues of action.
Avoid the "bend" and come join us to find extension! – every Monday evening of February from 6:30-7:45pm. Some practice of yoga is required to join this class. If you have any questions or concerns, please contact us at jennie@yogalacrosse.com.