Boost Your Immunity with K-Lea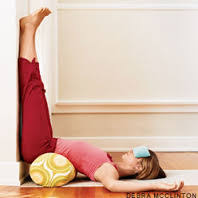 "Restorative Yoga is all about the relaxation response. In a culture that seems to promote and reward "doing" and "being productive" as the only "valuable" way to live, Restorative Yoga is counter-cultural, perhaps even "revolutionary". Restorative Yoga invites "being" rather than "doing," contentment rather than striving, being open rather than insensitive.

While initially appearing easy, like lying around, Restorative Yoga may be seen as a more advanced form, more akin to meditation, where we have the time to observe sensations, our breath, our emotions and mind, and where we may welcome all of these experiences."

~ Neal Ghoshal
On Sunday at 3:00pm, The Yoga Place is hosting a live and online special class with K-Lea Gifford, "visiting" Iyengar Yoga Teacher from Colorado. She will be sharing with us a version of an "immunity sequence" given to us by BKS Iyengar. This sequence to boost your immune system is part of a large Iyengar Yoga repertoire of specialized restorative sequences focusing on specific ailments and issues. It was first introduced at the Iyengar Institute in India after it had to close down for a week during an outbreak of the flu.
As we face this time of staying at home and with uncertainty dominating our lives, it is important to find ways to reconnect and restore ourselves on every level. "Health and Wellness" in the philosophy of yoga deals with every layer of our being – physical, energetic, mental (emotional)l, intellectual, and spiritual. We carry stress and reaction on each of those levels and it is important to address them all in a holistic manner.
Of course the poses chosen in an "immunity sequence" work to increase the physical and organic health and wellness of the circulatory and lymphatic systems where our immune response is needed. The chest is opened to breathe more deeply and easily, creating a more robust respiratory system. And with plenty of head supported postures, the nervous system is able to quiet and cool down from any added stress and tension.
Most importantly however, as stated in the quote above, "Restorative Yoga" challenges us to "just be". To give up some of the doing and striving in physical posture and find ways to be more sensitive and observant. You will experience longer holds and more props to create the space and time for the mind to settle in and settle down. It is this settling of the mind into the full experience of the body and Self that helps to truly restore our energy and spirit.
As we feel so separated from each other right now, another healing thing for our spirit can be in our ability to give back to the community that surrounds us. In that light, this special class will be on a donation basis to support The Women's Fund of Greater LaCrosse. As you restore yourself you might also help to restore and support the lives of others.
Thank you ahead for any support you may give and thank yourself for making the time and effort to support your whole being during this more stressful time.
Sign up ahead of time to get the link to attend. Setting up a space and collecting the following props (or something similar from home) ahead of time will be helpful: blank wall, mat, long strap, block, chair, 1 or 2 bolsters, 3 or 4 sturdy blankets, eye wrap/eye bag.