Elephants, Celebrities, and Yoga? Uh Oh…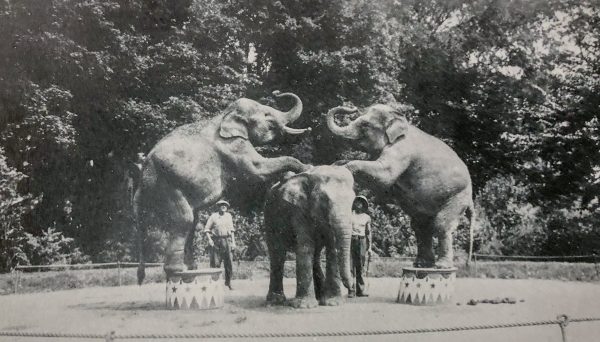 Well, serves me right to be behind on writing and catching-up on reading possibly the most "busy" Chapters of The Great OOM. I am still slightly behind schedule, but will finish up for sure before our meeting and discussion next Sunday at 4:30pm CST. I hope you are able to join us either in-person or online…sign up HERE!
By 1930, though the Great Depression was taking hold of the rest of the nation, the CCC and Pierre Bernard continued to thrive in Nyack on the Hudson! Yoga, along with Eastern philosophy and history, were becoming more of an interest than a taboo. Bernard tried expanding his ISVAR organization, but was swindled in the end by his Indian counterpart, Chatterji, and so set his local sites on expansion of the club. On top of of his expanding successes, the press seemed to now love "Oom the Omnipotent" and Rockland County truly survived because of him. "Yogi, aviation expert, animal trainer, baseball manager, architect, and now banker – there wasn't a single aspect of Rockland County's civilian life that Bernard didn't dominate." (Robert Love, Chapter 20)
But what about the yoga? Oddly enough, despite the CCC looking more and more like your more typical wellness retreat center of the day ("Betty Ford Center-style, but with the extra kick of vaudeville, parties, wildlife, and circuses"), the teachings of posture, breathing, and philosophy continued. Bernard's collection of elephants grew and he made use of them not just as workers and entertainers, but also teachers of his methodology. "The ancient rishis experimented not on the guinea pig, but with themselves…As we learn to fly and swim from the birds and fish, so they studied all sorts of lower animals, learning from the powers of agility, strength, repose, peace of mind, etc. – control through ordered discipline." (Quote from Pierre Bernard in Chapter 21) Those of you following our Yoga Sutra Study Group here at The Yoga Place will also see this in the Third Chapter of The Yoga Sutras of Patanjali soon where certain yogic powers describe the strengths of an elephant and the stability of the tortoise. Even Bernard demonstrated almost miraculous energy and focus to keep running all the aspects of the club and extracurricular activities.
Members also were spreading the word of yoga through writing books and traveling. Even those who cut ties with the CCC still practiced and shared their practice with others. However, cracks were beginning to show starting around 1933 despite Bernard's insistence on building a grander full-size stadium to replace the smaller CCC baseball field. Mom, the lead elephant passed away and though celebrities still flocked to the CCC with their clout and money, Bernard's nephew, Theos Casimir Hamati Bernard, was about to show up and turn some tables and heads.
Theos was the son of Glen, Pierre's brother who had cut ties and kept a grudge since leaving the group many years before. Glen had continued his practice of yoga and travels to India, and despite being separated from Theos in his childhood, passed the interest of yoga on to him after Theos suffered an almost deadly illness in his first year of college. There is a secrecy surrounding Theos's immersion into yoga with a "mysterious" and unnamed Indian teacher, but this encounter left a great impression and sent him with curiosity on to the CCC and his uncle "P.A."
The arrival of Theos to the CCC seems to herald a demise in funding for Bernard's exploits as well. Theos and Viola Wertheim, one of Bernard's biggest contributors, fell instantly in love and conspired to separate themselves from the club. The Great Depression began to be felt by the rich and they began "cutting back sharply on leisure-time pursuits". And, thrown off his game of good-fortune and timing, Bernard's next venture into dog racing ended in a mess of shutdowns and lawsuits. In the wake of monetary struggles and members just trying to get by on anything they could, DeVries and Bernard's relationship also began to crumble.
By 1937, The Great OOM's influence was beginning to fade as yoga's wider influence began to grow. Theos traveled through India and Tibet as explorer and student and came home a hero – "The myth of the White Lama was born, perfectly timed to supplant Bernard's legendary fame as the once dangerous OOM the Omnipotent." (Robert Love, Chapter 24)
I can't help but see so much history repeating in this story of Pierre Bernard. Yoga growing from counter-culture practices in the 1960s to a world-wide phenomenon done by the likes of Sting and Madonna. Famous teachers in the limelight rolling in limos and focused more on collecting followers than dedicating themselves to the needed practice and discipline that yoga suggests. Like Glen and Theos, there are those who still want to dive deep, beyond the hubbub and glitz of yoga's popularity and find the deeper meaning of the life and philosophy taught to us by the ancient sages – those that did their experimenting and exploring of Nature and themselves.
As that mysterious teacher taught Theos, "The way to gain liberation is through the practice of yoga…Live free from malice, envy, hypocrisy, hatred, falsehood…Be frank and honest and devoted to the good of others…Patience and perseverance are the key to salvation."
I do not remember what ultimately happens to Pierre Bernard or the CCC, but I guess we will draw to that conclusion this week…