Francie Ricks – In her own words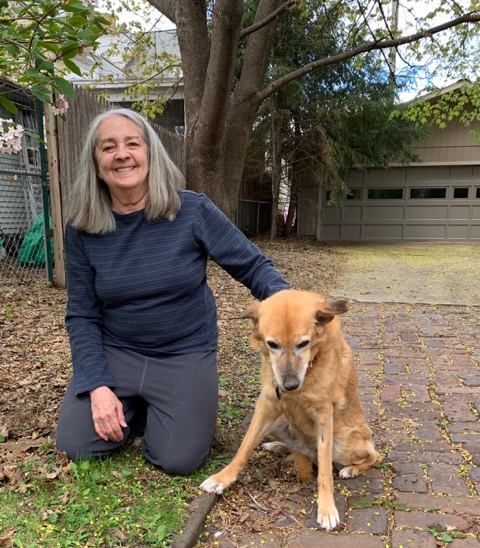 The last of our "meet the teacher" blogs is here and I want to thank everyone for their participation! It has been a great way for me to get to know everyone better and share their amazing stories! For me, that is one of the rich parts of our Iyengar Yoga community – we are a group of diverse and dedicated students looking to better ourselves through this practice of yoga.
Though all of the blogs were originally written by the teacher and then edited by me, Francie wanted to share her story in her own clear voice! So, here it is and ENJOY!!
I grew up on the east coast, riding the train south from New York to Pennsylvania to my Quaker boarding school and then north to Brown University in Providence, Rhode Island. After college I moved to California to become a very lightweight hippie. After a short stint on the Russian River north of San Francisco, I followed friends south to LA where I worked in a small shop selling batik supplies and decorating fabric with colorful designs. I was lonely and a customer and friend at the batik shop noticed I was looking depressed and out of sorts, so suggested I try a yoga class.
I still remember how beautiful, clean and light it was the first time I walked into the studio. The walls were light sky blue and sun poured in the windows. After my very first yoga class, the muddled feelings and thoughts I took in with me were gone. I loved the way my body felt while doing the yoga poses, and the clearing and quieting of my mind.
I was hooked! I took many classes, practiced some at home, and pretty quickly became a yoga teacher myself. I had good teachers, people who loved yoga and studied it, in the Sivananda tradition. Then the senior teachers from the Center for Yoga in LA went to India to take a course from BKS Iyengar and were gone 3 months. During that time they arranged monthly workshops from senior Iyengar Yoga teachers Ramanand Patel, Mary Dunn, and Judith Lasater at their Center. My first experience of Iyengar yoga!
Soon after that, I was sent for a months course in Pune with Iyengar as well! I was amazed to find myself traveling alone to Mumbai and then on to Pune, following only the very good instructions from teachers who had gone before me. And ah, the first smells and sights of India! The first aroma of pee at the airport, then the smoky streets smelling of incense and spice! I booked a "ladies only" carriage on the train and it was like being at a party – the ladies in their beautiful brightly colored saris, and vendors and beggars at each station selling snacks and performing for coins.
I stayed in a small hotel for a month of classes at the Ramamani Iyengar Yoga Institute (RIMYI) and was one of the last fortunate pupils to attend one of the regular intensives taught by B.K.S. Iyengar himself. I remember on the first day, standing in the back even after Mr. Iyengar told us "short people stand in front." He came back and touched me with his flat palm in between my shoulderblades and repeated the instruction. From that first encounter, I learned to listen and I was the beneficiary of his instructions, sometimes directed to me personally, as I was now standing right in front of the platform at the front of the class.
In the years that followed I pursued the study of Iyengar yoga more intensely. I spent two months in India every year or every other year, attending intensives taught by BKS and Geeta Iyengar. Back home, I was one of the founders of the Iyengar Yoga Institute in Los Angeles. I traveled weekly to San Diego to study with Mary Dunn there. A few years after the first U.S. assessments for Iyengar Yoga teachers were arranged, I became an assessor.
At the second U.S. Iyengar Yoga Convention taught by B.K.S. Iyengar, I participated in the first ever student demonstration put to music to honor our teacher. Mr. Iyengar seemed quite pleased with the performance, but felt our backbends needed work, so he invited us to attend a special backbend intensive in India the next year.
I was lucky enough to lead a couple of U.S. groups to Pune for Intensives
and got to know the Iyengars better. When Mr. Iyengar was teaching, I stood up front and he would correct me and correct me for the first few days, and then he would back off a little, seeming to know when I was doing the best I could. Through the intensity of his instruction I learned what was possible. It was the same for all of us who were able to study in Pune on a regular basis. We learned to go beyond our ordinary practices as we were not allowed to be lazy or continue our mistakes. Geeta in her intensives guided us systematically to learn each pose and how the poses should be practiced in sequence for the best results. She told us she did not pre- plan each class, but the she had "an organized mind." We benefited.
I wish I could share these experiences with all my students! To go to Pune and have nothing to do but attend classes 6 days a week, practice time for 3 hours each day, and study and live yoga for a month or more is a true gift. Not to mention the friendships made over sipping fresh coconut water and discussion after class, exploring Pune city, and sharing meals of wonderful Indian food.
What I Learned…
To pay attention, and always do the best I could. To let go of weaknesses or failures and find ways to make progress. How to work my way around the minor injuries or difficulties I encountered. That the benefits were so much more than the hardships. How wonderful and comfortable the body could be. How the mind could be cleared and rested.
To trust that our Guruji could always guide us. That understanding would come in time. To love Geetaji like a friend and a mother as well as our constant teacher. To learn from the understanding of Prashant. The books and notes are there. The asanas are there The practice is always there. I may sometimes be lazy or neglectful, half a world away from my teachers in India. But the practice is there. I have only to spread out my mat. 
My life now…
From the East Coast to the West Coast and in between India, I finally landed in La Crosse. I met Chris Saudek during Convention plannings and we stayed in touch, so when she needed help at The Yoga Place, she invited me to come along. And here I have stayed.
When I first moved to Wisconsin I continued to teach workshops in California and for a few years taught regularly in Chicago. I founded the Winona Yoga Center and taught weekly classes there. But more and more I preferred to stay home and practice and teach daily classes at the Yoga Place.
The last time I went to study at RIMYI in Pune, I met a lame dog who lived on the street right in front of the flat I was renting, right next to the Iyengar's Institute.  After my two month visit, one more priceless gift from India came home with me, my dog Sita.