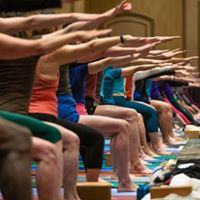 Summer Session at the Yoga Place is beginning on July 7th and it is a great opportunity to try something new for Summer!!! Yoga is a great way to introduce yourself, to well, your Self!
There are many reasons to start yoga, but the best reason is to give time just for YOU. Iyengar Yoga in particular teaches yoga in a way that you will instantly feel a new connection to your self and how your body and mind work. You will learn new skills to move better and be more alert and aware within every other activity life brings.
You do not need to already be flexible or strong, or be free of pain or obstacle. Iyengar Yoga introduces the practice of yoga through a step-by-step method good for all levels and experiences. Even if you have done yoga before, Iyengar Yoga is sure to give you a challenge on some level.
To focus for even a moment on yourself allows the brain and the mind to also come to some balance, bringing a little less stress and a little more freedom! Summer is a great time to begin because most of us have a bit more time and also a little less distraction to start something new. If we wait until the Fall when school starts again and schedules fill up, we may not think to start. And, the longer days of summer also give us extra time in the day to fit in something new to our schedule that will support our other outdoor activities.
Intro to Iyengar Yoga is now being offered at The Yoga Place twice a week – Monday at 5:45pm and Thursday at noon. So, if you are already a student of Iyengar Yoga, don't keep this great practice to yourself! Tell a friend or family member who could use a little "me time". Or, if you are a practitioner of yoga already and have never heard of Iyengar or "think" you know what Iyengar Yoga is, I invite you to give it a try again or for the first time!
During this short 8-week session for Summer, we will cover the foundational methodology of Iyengar Yoga and introduce you to all aspects of the practice of yoga in general. Now that yoga is a household term used in so many commercials from yogurt to insurance, there is a lot of misunderstanding of what yoga is and how it truly can benefit you!
So, let me introduce you to the power and practice of YOGA !
Sign-up NOW (before June 29th) and get a discount of $10 off your registration.