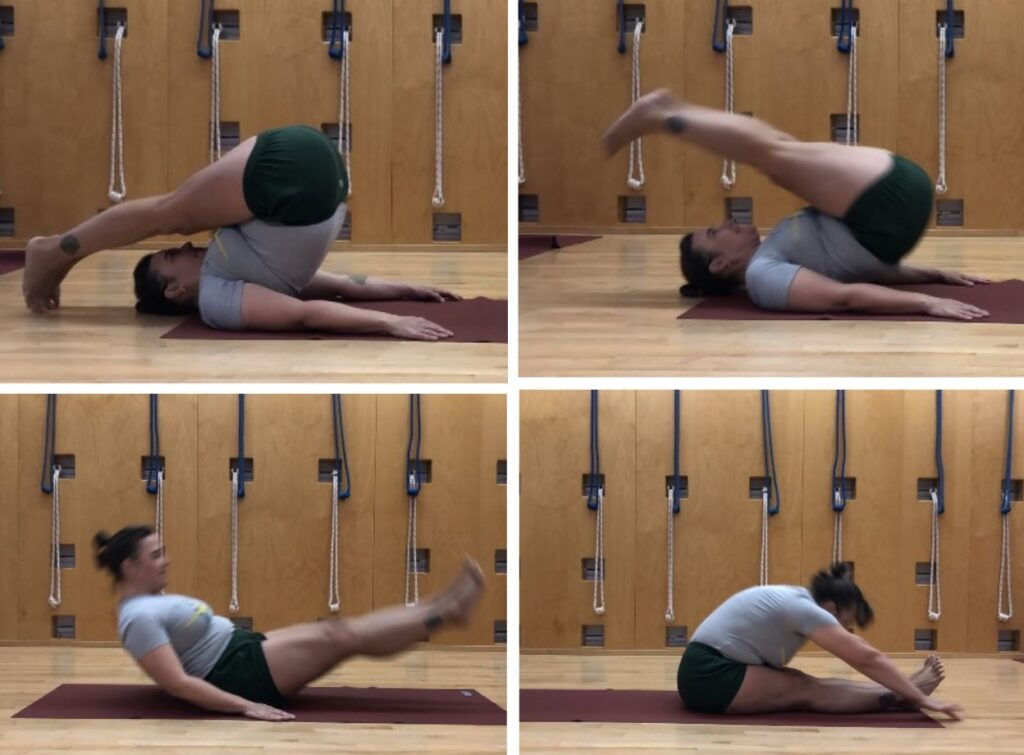 When "Iyengar Yoga" comes to mind, most of us think of stability, holding poses longer, strict alignment. However, one trip to India and taking classes with Indian teachers (including the Iyengars) dispels the myth that that is ALL "Iyengar Yoga" is. Yes, stability is necessary to create good foundations and awareness of the body and posture to avoid injury, but being stuck ONLY in stability can keep us stuck in certain physical spaces – and mental ones as well.
Rolling, jumping, kick-ups and throws … all are used in our method to get us places that a slow, deliberate push may not quite get. "Just GO!" was a common refrain from Geeta Iyengar at times when our diligent and measured practice seemed to be slowing our progress. Movement can free the mind from certain fears, might distract us for a moment through an uncomfortable stretch, and drive us to touch farther and deeper than just staying put.
My short, stiff body tends to tighten up the longer I stay in certain poses, but movement has shown me where I might reach – even if just for a moment – keeping hope alive. Edges that I have struggled to move beyond, I have eked across. Doors have opened for students for that glimpse of light from seemingly impossible poses. "Just Go" and see what happens.
Monday nights in March will be for Mobility and Movement – 4-week special series from 6:30-7:45pm – Hybrid on Zoom and In-Studio with recordings available with registration.
This class is for those with an already firm foundation in yoga practice without current injuries. A practice of Sarvangasana (shoulder stand) will be helpful.