Spring Cleaning – Body, Mind, and Breath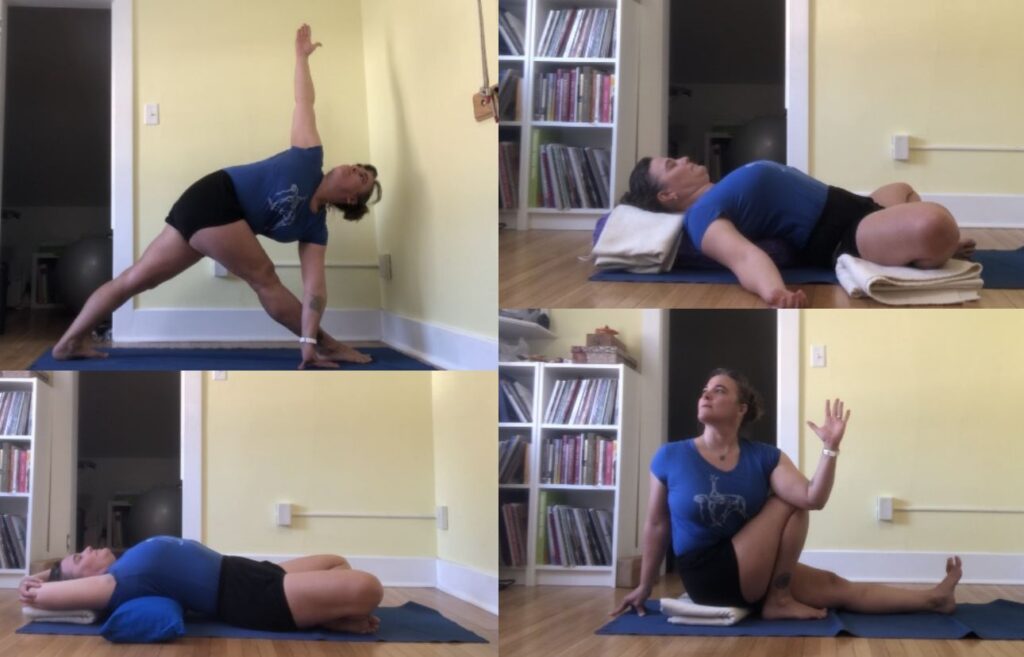 Spring is in the air and soon we will all emerge to the sunlight with squinting eyes and sluggish bodies. We take the time to dust off and clear out any build-up in the house and home over winter, switch over the wardrobe, and get outside. But what about our inner spaces? How do we deal with the build-up and low energy mood of the darker days? Can we even have tools to open the lungs for breathing better as allergy season arrives?
The Monday Night series for April 4-25 at 6:30-7:45pm CST will help you Spring Clean your Self – Body, Mind and Breath!
This 4-class series will focus on twists and back arches approachable for all levels. Twists are amazing to realign a spine that might have gotten a little too comfortable on a couch, and free up rib and chest movement for better lung and heart capacity. Even deeper, twists squeeze and soak every one of the internal organs that might get sluggish with time, age, or diet.
Back arches – both supported and unsupported – will be used to create space and lift in the chest, also increasing heart and lung function and capacity. Backbends also help to raise your energy and boost your mood, something I think we all can use now in particular and also in general after the winter has thawed and the season is changing.
We will end the series touching on simple Pranayama (breath regulation) practices that can clear out the cobwebs in the mind and open up spaces that might feel clogged from winter colds or help avoid the intensity of seasonal allergies.
SIGN UP NOW ! In-Studio or On Zoom and recordings are available with registration for the series.