The Great OOM – Summer Book Club with The Yoga Place!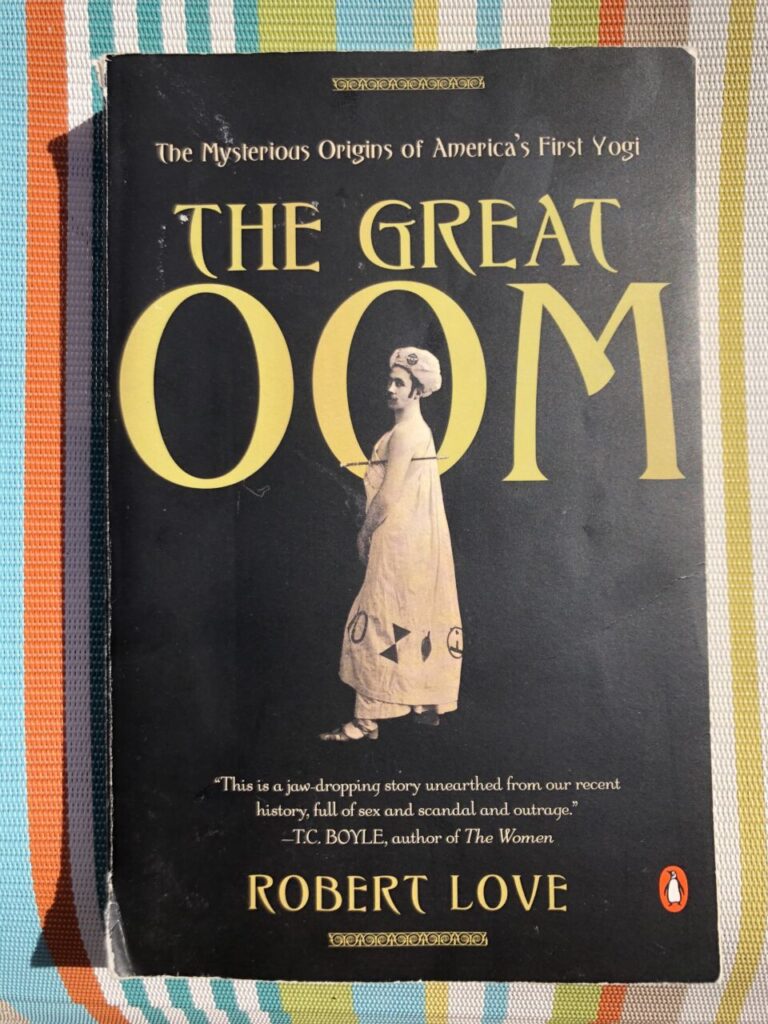 I don't remember when I first read this book, The Great OOM by Robert Love, but it definitely made an impression. All the ways that yoga has been translated and shared from the East to the West is one of the many fascinations I have with the practice. The juxtaposition between what the practice of yoga truly sets out to do (still the fluctuations of the consciousness and bring us into full understanding of our Self) and the ways the human being uses the practices of yoga to achieve so much aside from that end (and a lot of the time completely opposing that end) is endlessly intriguing.
The transformation of Perry Baker from Iowa into Dr. Pierre Bernard of New York and ultimately into The Great OOM of his own ashram in upstate New York is a wild ride, one that the back of the book promises to "pop your chakras wide open"! And though this story plays out in the late 1800s/early 1900s, it is a story that has been relived over and over again in this tradition that promises so much and draws people in to something so much bigger than themselves.
How does the self-practice of yoga, beginning with moral precepts and observances to steer you away from the abuses and attachments of ego, money, and power sometimes lead so many to build yoga empires around just those things? The Yoga Sutras themselves, thousands of years old in their writing, warn numerous times within the text of the fall from grace that may happen at any moment. How do we catch ourselves in those falls and pick ourselves back up for practice?
Can we honestly sever the practice of yoga from the tradition and practice of India and still call it yoga? When our culture is different, our world views are different, and we try to mold an ancient Eastern system into a modern Western world, what can it look like and how do we utilize the universality and timelessness of the knowledge to our benefit and not our detriment? Why do we do yoga, how do we find yoga, what are we learning through yoga?
I hope you will go on this summer journey with us here at The Yoga Place. We will start reading The Great OOM together in June. You can find it anywhere you might order your books these days. Below is my planned schedule of blogs as we read along…you may also follow the specific FaceBook Group here. I hope this read gives you a little boost to your yoga this summer and don't forget to join us for class LIVE in-person or online now with hybrid classes and in-person only options on the schedule.
Look for the Blogs for the following page reading schedule throughout the summer…
June 1 week – through Chapter 2
June 7 week – through Chapter 4
June 14 week – through Chapter 6
June 21 week – through Chapter 8
June 28 week – through Chapter 10
July 5 week – through Chapter 12
July 12 week – through Chapter 14
July 19 week – through Chapter 16
July 26 week – through Chapter 19
Aug 2 week – through Chapter 21
Aug 9 week – through Chapter 24
Aug 16 week – through Chapter 26
Aug 23 week – finale
We will have our Book Club Gathering the end of Aug or beginning Sept – TBD