What's In a Name ?- Sanskrit in Action and Asana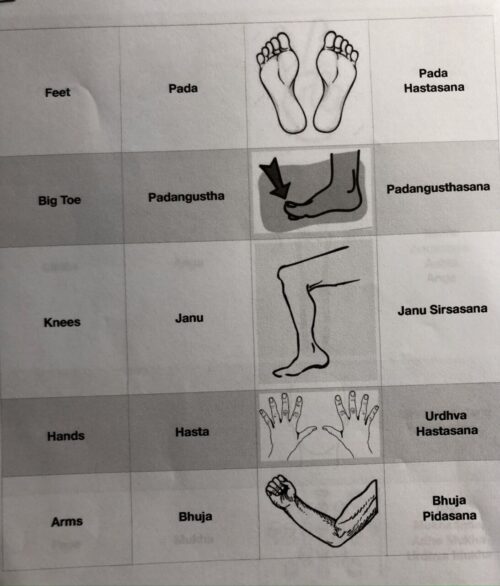 As time is flying and Fall is arriving, time to look ahead and plan some more in-depth study for the Monday night specials. For October, we thought we would revisit the learning of Sanskrit terms and names of poses, as we know it can seem daunting at first (or even fifth) glance. However, to take the time and energy to learn the names of poses is an important part of learning yoga. To lose the "language of yoga" – Sanskrit – is to begin to lose the foundation and culture of the practice itself. In Iyengar Yoga, with traditional teacher ties to India, and traditional ties and approaches to the foundations of yoga, we utilize the Sanskrit terms that have been the source of asanas (postures) since their inception.
Music, dance, and martial arts are just a few other examples of practices that include a "foreign language" to also learn the methodology and form of the practice. To know and learn the names of postures in yoga is to understand their origins, energetic properties, and in some cases the literal meaning of the pose itself. The lore and story, the feel and formation of posture initially relies on its name.
Both Abhijata and Prashant Iyengar have recently asked this question as they attempted to teach Iyengar Yoga to so many across the world via ZOOM – "how would you feel in a relationship with someone who does not know your name? or not even care to learn it?". Each asana (posture) comes with its own, "seat", "situation", "position" that is tied to its name. And with each posture we practice, we are nurturing a relationship over time. To deepen that relationship, knowing the names of poses in Sanskrit is a must. It is the global, universal language of yoga. One of the greatest gifts of Iyengar Yoga is that you may travel anywhere in the world, and if you know the Sanskrit name for a pose, you can practice your yoga. Trikonasana is Trikonasana in every country that practices Iyengar Yoga, and last I checked there were 57 of them!
And, to be perfectly honest, Sanskrit is not as hard as it initially sounds. Yes, there are longer words that twist your tongue at first, but each of those words are made up of smaller parts. Sanskrit is also a very LITERAL language to speak. EVERY letter that is written is pronounced, unlike "some other" language we seem find so easy! Just like learning the physical asana, in understanding its pieces, we can put together a more integrative whole.
In the four week special class that runs on Monday nights from 6:30-7:45pm in October, we will utilize different ways to learn, recognize, and listen more closely in class to the Sanskrit names. Handouts will be given, but this class is made to be physically and verbally interactive to cover many ways of learning. ONLINE and IN-PERSON options available! All levels of student are welcome!