108 Sun Salutations – Happy New Year!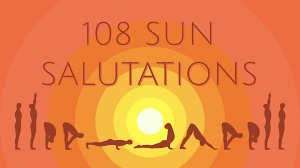 Yes, it has been probably almost 20 years now for me doing 108 Sun Salutations for my New Year celebration. And of course, the first question people ask is why 108??? The number 108 has been found to have significance across many cultures, scientific disciplines, and religions and I think this description is pretty thorough… https://www.himalayanyogainstitute.com/what-is-so-sacred-about-the-number-108/
The second statement after that is usually – well I could never get through that. But, let me assure you that I have guided students of all levels and all styles of yoga through this journey of 108 and though you will build heat and you will feel "more alive" (a bit sore) on Jan 2, there are many ways you can tailor this practice just for YOU! One year I had just injured my knee skiing and wore a brace, another year I had just had my knee fixed and wore a brace, and some years I have been menstruating. So, no jumping required and the speed and effort and poses you put in are all your decision. We find a collective rhythm to the practice no matter who is participating.
We start the process with easy walking and lunging to warm ourselves slowly. There are 12 names and qualities of the Sun God that we invoke to begin the first 12, so there is 10% done. After that, I give all the options of speed and variation so that you can be safe in your own body and space. There are also built in "breaks" in my sequencing for those who might find it hard to pace themselves and different poses that also feel like breaks once we get going. And of course we don't miss a "cool down" and Savasana!
This year we will be HYBRID – some on ZOOM and some in the room. If you want to be in person, sign up soon as we are still socially spacing in the studio and we do require vaccinations to attend in person. Give yourself the gift of yoga in the New Year!