Sunday Sadhana Classes – 9:00am (CST)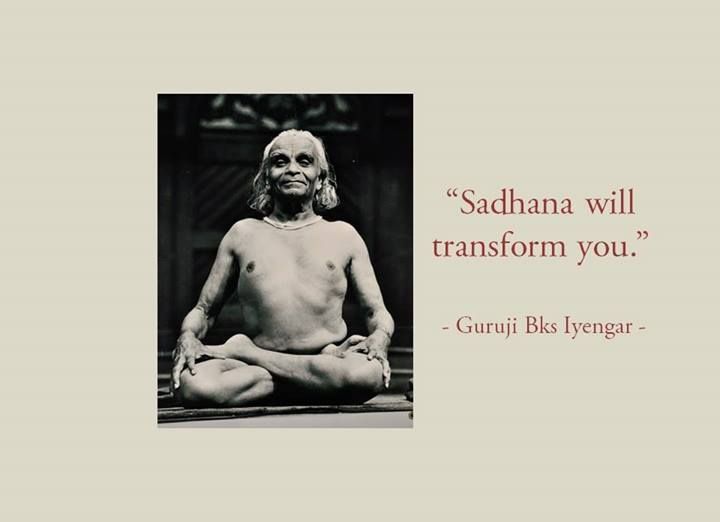 The "motto" for The Yoga Place is "where yoga is more than exercise and instruction is individualized" – and though this is a driving force behind Iyengar Yoga in general and the basis in approach to teaching for all classes, we thought we would try to bring it even more to life with our Sunday Sadhana classes of 2022.
Sadhana is translated as "practice" from Sanskrit and our Sadhana is made up of the steps we might take within our own practice to move us toward a deeper understanding of yoga and our Self. Originally this process was done from individual teacher to individual student, but as we know this is not the case today. Iyengar Yoga does its best to find this "individualization in instruction" in our approach to class and teaching – before any class, an Iyengar Yoga teacher has looked at their roster, knows the students coming, and tailors that class to best suit that group. And, if the group is consistent, we take a rotation of pose categories to make sure to touch the whole of the practice of yoga over time. This makes class the realm of learning and information gathering for each student to take to their own practice over time.
However, not EVERY class you take is going to be "the thing" you need or want at that day or time. And, a lot of students ask about how they might approach a practice "just for them". Sunday morning has been a stand-out class for The Yoga Place with a rotating mix of teacher faculty and also a rotating commitment of students. It seems like a great time to try a more interactive approach to the teacher/student dynamic and encourage a more engaged class time for everyone.
Here is how it will work…
Once you are in and know you are attending, send an email to info@yogalacrosse.com with your class request
The class request could be a pose you are interested in, a category of poses such as back arches or restoratives, some issue you are dealing with, or a philosophical idea you were wondering about.
The teacher on schedule for that Sunday will create a class around that suggestion and announce that topic in class for clarity – the student can remain anonymous, but of course they will know who they are. As the weeks go by we will also do our best to have a rotation of student suggestions so that it is not always the most eager and first-signed-up student every week.
That said, make sure to get signed up and send your email BEFORE the Thursday of that week so that we can plan ahead as usual.
What a great opportunity to have such specific engagement with your teacher and within a certain class! Especially as this class remains entirely on ZOOM. We hope you will take advantage of this opportunity and join us in the Sunday Sadhana classes when you can!
The first Sunday Sadhana will be taught this Sunday, January 2nd by Jennie Williford. Sign up HERE!