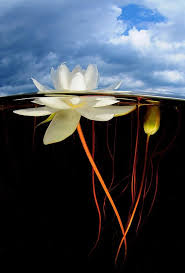 This week and weekend is an important time for two of the world's major religions – Passover and Easter. Yoga does not have holidays as it is more philosophy than religion, but there is one symbol in particular within the yoga tradition that I feel we can turn to to elicit similar feelings of freedom, renewal, and transformation – the lotus flower.
Right now we might be experiencing that feeling of being "underwater". Stuck at home, restricted by the rules and regulations of a "stay-at home" order, there is that unclear murky feeling of uncertainty. But that doesn't mean we should be complacent. The lotus flower first thrives in the muck. It is underwater and in the mud where the roots are solidified and find their nutrients for growth.
As the weather begins to warm, from the muck, the lotus stem begins to reach for the surface. It does not give up and stay hidden, it continues to rise through the cloudy water and seek the light. Given this time in quarantine, we must find ways to root ourselves in the nutrients we require and find ways to seek the light that inevitably is there above the darkness.
The surface of the water always exists for the lotus and for us there will be an end to the order of being "safe at home". Everything changes, maybe not exactly on our own timeline, but with every dip in experience there will be a rise. As the stem keeps reaching for the surface, the bud will find freedom at the top. Keep looking for light spots in this darker time, and soon there will be the freedom you hope for on the other side.
And when that freedom happens for the lotus, when the sun has warmed the water and the petals open, the result is one of the most beautiful flowers in the world! That show of beauty is only after the long work of setting roots and reaching for the light has been done. The slog from the muck and the long journey under water is worth it for the bloom to come.
So, take this time amongst the muck to plant your roots and reach for your light. The lotus within you is ready and planted. With steadfast focus on any sign of brightness, you will emerge sooner or later with that strong and beautiful bloom.
I knew not then that it was so near,

that it was mine, 

and that this perfect sweetness

had blossomed in the depth of my own heart.

Excerpt from The Lotus by Rabindranath Tagore – poem found in the collection, Gitanjali