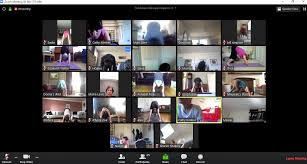 I put those question marks there on this title because I know that there are still mixed feelings about teaching yoga online, Zoom itself, and teaching live yoga classes through Zoom. Yes, obviously The Yoga Place took that leap to online and this was for many reasons…yes, teachers and students both had and probably still have reservations and hesitations…and yes, it is a learning curve for all for sure.
Yoga is meant to be taught in person (and traditionally one-on-one if we really get down to it). It is a subject of transformation and the only true way to understand or have knowledge of change is really to be given some guidance and some feedback as to what our habitual nature is. Things we can't see or feel ourself can be seen and mirrored by someone else there to guide us. Iyengar Yoga values this teacher/student relationship and that cannot be found in a video alone put out for the masses.
During these strange times of Covid, the community that yoga class provides is also something missing for many. Yes, we go to yoga class to learn, but we also find kindred spirits there, folks willing to open themselves up to learning something a little outside the box. Though a tool to help us through anxiety and uncertainty, the practice of yoga can be challenging at times. It is helpful to know that others are encountering similar obstacles and checking-in in real time goes a long way.
Zoom is a platform that allows for a LIVE experience of class with a group of people. It may not be ideal, but it actually has been better than many of us thought! No, we cannot see the students as well and we have to tailor our sequence of poses to what might be available to students at home. But, it has become this interesting "middle ground" that allows for the live interaction and guidance to still happen while the student is more empowered within their own space to figure things out that the teacher may not be able to see.
As a teacher, it has been inspiring for me to see people carve out their spaces to practice amongst pets, partners, and progeny! The world continues to swirl, but that 75minutes of yoga is priceless. As a student, I am thrilled to still have my weekly class with Chris Saudek and now I can also take a weekly class with a favorite teacher in India.
Though I could go on, one of our students went above and beyond to give us some amazing feedback about her experience with The Yoga Place on Zoom. It may be that this stay-at-home order could be a while, so I hope her following list of "Advantages" gives you something to chew on.
I feel the same teacher presence as in class although of course it's hard for the instructor to see all students easily, and the student must adjust devices to see and hear  the instructor well.  
All the instructors have offered excellent individual feedback to their students in spite of the on-line limitations.   
Students can take more classes and experience different instructors.  Every instructor offers a uniquely positive style. I have now taken 4 different types of classes with 4 instructors, something that I could never do at the studio as I live an hour away. 
I feel more relaxed before class, "going to the basement" instead of worrying about weather and traffic. 
Knowing that both students and instructors are joining from their homes highlights the importance of yoga and The Yoga Place.  We are making time for yoga and each other and finding solace in both.  
We are continuing to support The Yoga Place in whatever way we can.
These classes also help us structure our time while offering stress reduction, socialization, mind and body health.
All of us are learning something new now. There will indeed be a "new normal" even when all is said and done. But, yoga is about the "NOW" and the "PRESENT MOMENT", and the necessity that is presenting itself right now is LIVE and ONLINE ! The Yoga Place is taking every precaution to be safe and secure with its online presence and we hope to see you there soon!