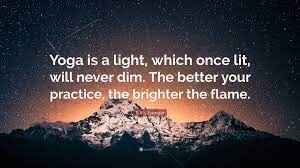 We have a new Monday evening series starting TONIGHT! so don't miss out. As we have all been facing a bit of struggle the past years, it is important to keep the spark of Self-appreciation and knowledge alive! YOGA is the way to ignite the flame of attention and awareness, Self-reflection and motivation, no matter what you end up facing for this New Year.
Iyengar Yoga Ignite! is specifically a great series to ignite your interest in yoga and/or relight the flame of practice if you have let it dim in the past years on ZOOM. If you are a beginner to yoga altogether, new to Iyengar Yoga in particular, or just looking for that spark again for practice, join us for the next 8-weeks to invigorate your 2022.
Beginners! Yoga is great way to find balance in our body and mind and connect them together through the development of Self-awareness. Yoga supports any and all other activities you may already be taking on, but can stand alone as an amazing practice for health and well-being as well. Strength AND flexibility. Mobility AND Stability. Activity AND Relaxation. Give your SELF the gift of YOGA for the New Year!
Yogis new to Iyengar! If you have practiced yoga for any amount of time, but have not branched out to experience the myriad of styles and approaches, I highly recommend it. I started yoga back in 1998 and have tried many different styles and techniques. Obviously, I settled ultimately into Iyengar Yoga for a reason, but I think I have benefitted greatly from my experience and knowledge from other styles as well. Iyengar Yoga is the foundation of alignment in practice, approaching each pose individually for every practitioner, and specific instruction that creates a "learning" environment within class instead of just a "doing". BKS Iyengar developed the use of props to tailor any movement or pose to YOU and our specific teaching ignites awareness and connection between body and mind that students find unique and beneficial.
Getting Back In-Person! Maybe you never got into yoga on ZOOM or maybe on ZOOM you have been missing some more detailed instruction for YOU! Iyengar Yoga Ignite! is ONLY in-person, socially distanced, and all participants are required to be fully vaccinated. It is a safe and personalized way to get back to your practice and back to your Self!
Yoga is not just about the body, but the body is a doorway and a tool to connect to the deeper aspects of our SELF.
SIGN UP NOW to START TONIGHT !
Mondays from 4:30-5:45pm – Jan 3 through Feb 28 (no class will be held on Jan 24th).