Styles and Studios of Yoga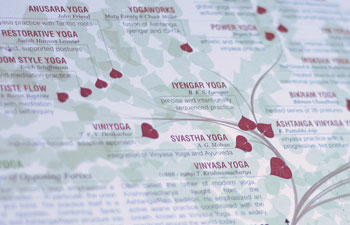 Yoga is not a style. Yoga is not a studio. Yoga is not a teacher. So how have we come to define yoga so narrowly?
When I began yoga it was not as popular as it is today. It was at the beginning of what we now call the "modern yoga" explosion and still had some hints of the "counter culture vibe" that it was known for when it hit the West. However, there were definite styles that had evolved, and with fewer yoga studios in general, many of those styles were all housed under the same roof. By the time I made it into an actual yoga studio that I had to drive 45 minutes to get to (GASP!!), I had already taken "eclectic Hatha yoga" for a couple of years. Entering into an actual studio, I was introduced to a whole new world of yoga in so many forms and I definitely tried each one – Ashtanga, Vinyasa, Power, Kundalini, Iyengar, and Jivamukti are the ones I can remember. General "Hot" yoga did not yet exist and Bikram had just started to expand his empire….I tried that later after my students kept asking about it.
I feel fortunate to have had the opportunity for exposure to many styles of yoga. I meet a lot of Iyengar Yoga teachers and students who have ONLY ever done Iyengar Yoga and I meet a lot of other yoga students and yoga teachers now who ONLY know yoga as the thing they do at "their studio". In a lot of ways, this has resulted in numerous and VERY NARROW views of what yoga is and what yoga means to the wider world. Yoga is so popular now that most studios can sustain themselves on their own student base with their one style of yoga, and in many cases just train their next batch of teachers in house. Someone can live right near their studio, practice, train, and teach within that studio, and never even know that other styles exist.
But, in the end, yoga is much bigger than "one style" and "one studio". What we do with our body is one aspect of eight limbs of practice and there are about as many approaches to that physical aspect of practice as there are different body types and personalities. In the end, what your yoga practice should bring you is UNIVERSALITY and LONGEVITY. Yoga is meant to be a lifelong, life sustaining practice. We are all aging and life happens, so is the yoga you practice something that will be with you through it all?
Yoga Sutra I.14 reminds us that the goal of yoga, quieting the fluctuations of the mind, is found through "long, uninterrupted, alert practice". When we are given and taught the practice of yoga we should ask ourselves if we are being empowered with such a practice? Is it something that can be physically sustained through any and all aspects of life or is it just for the "right now"? Will it be something that can bolster me mentally when my physical being is challenged and physically when my mental being is challenged? Because of my exposure to all kinds of yoga, I was able to see the wider variations and ultimately chose something I felt I would benefit from over a long period of time.
When I was in that eclectic studio going to other styles I kept being drawn back to Iyengar for the emotional releases and mental stability it was imparting to me. But, my best yoga buddy at the time kept being drawn back to the Ashtanga classes – different body and personality, different style, but the studio remained the "home base" where we also learned the philosophy and history of the vast subject of yoga. We were able to find the best style for our individual natures without losing the grander picture of what yoga is.
My final commitment to the Iyengar method of yoga was due to the fact that I saw within that practice a myriad of body types, personalities, ages, and abilities. I saw in the Iyengars and my local teachers the ability to adapt and evolve over long periods of time. The three (now four) Iyengars that make up the base of our lineage were and are completely different people with completely different approaches. Our body of knowledge spans three lifetimes of practice and teaching. It also includes the cultural, historical, and spiritual foundations of yoga just by the nature of the Iyengars' themselves being steeped in that culture.
That said, I am absolutely of the mind that we all will find a style that fits our nature. I saw it in myself, and saw it in many friends I made on my journey through my first studio experience. I saw it in my first 200 Hr Yoga Alliance training that was also eclectic and drew folks from around the country, and I see it in students that come and go from classes.
The biggest obstacle for "modern yoga" students now is making a choice to get out there and gain experience of the variety of styles of yoga on your own. No longer can you gain this experience while all under one roof to understand the vastness of what yoga is. You might of course sample a variety of teachers with different approaches within one studio and style, but to experience a different style altogether takes time and determination. We are challenged to get out of a familiar routine, travel maybe a little farther, fit yet another thing into our schedule, and enter a space that might feel a little foreign. But, I think it is worth it.
The idea of yoga is to break out of old habits and open our minds to possibility and potential, challenge our ideas and judgements of what we are used to, even challenge our self in what we think we know. So, expose yourself to those new experiences and the ability to study yourself from many new and different angles. Be open to the vastness of what yoga actually is…you might be amazed at what you find.
(the photo on this blog is an image from The Yoga Poster which I highly recommend purchase of if you would like a clearer picture of the vastness of yoga and where all the styles fit in)